Beware Despots Sending in Aid
09/05/2014 8:00 am EST
Focus: OPTIONS
With geopolitical events controlling the volatility index movement, Andrew Giovinazzi of OptionPit.com discusses the big winner of all the major indexes this week and offers an options trade with a very possible October exit.
It is funny I thought the Russians sending in aid a couple of weeks ago was a bit of a smoke screen. Somehow the Ukrainian rebels got a new leg up. The situation for them has gotten better since the white "humanitarian aid" trucks went in. Fast forward to this past Wednesday.
With the dawn of a cease fire between two parties in the Ukraine, you would think stocks would really cheer and the VIX index (VIX) would be in for a good pounding. Except that one of the parties is not officially fighting and blaming Ukraine for defending their own territory. I have VIX unchanged for the day so there is plenty of doubt in what could play out in the meantime.
The big winner Wednesday of all major indexes was…the (RSX). The Russian ETF from Market Vectors broke the 25 handle for the first time in a week as the surprising cease fire news came out. IV in the product dropped close to 3 points and this is clearly a big relief rally.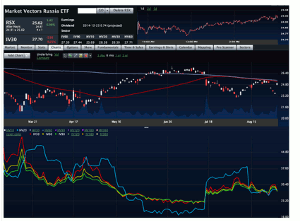 Charts: www.livevolpro.com
Click to Enlarge
The big question is will there be follow through? Will Putin follow through and come up with a meaningful cease fire. Who really knows, but the options are still cheap enough that you can buy them and wait. The idea for this is a straddle but sellout the least likely side. RSX has not gotten down to $22 in a while and if it hasn't at this point it is doubtful it will. This market and RSX wants to move if we can put Ukraine behind us. A client of mine came up with this trade idea and I thought it was a good one.
The Trade
Buy RSX Oct 25 straddles and sell the Oct 22 puts. 1 to 1 for Reg T and a slight ratio for PM. If RSX gets back to the highs for the year it could happen fast as if the 6% move Wednesday was not fast enough. $27 plus is a very possible exit by Oct.
By Andrew Giovinazzi, Chief Options Strategist, OptionPit.com