When Volatility Does Not Tell the Story
12/15/2014 8:00 am EST
Focus: OPTIONS
Option trader Mark Sebastian, of OptionPit.com, explains that volatility doesn't always tell the whole story and—citing last week's movement of the S&P 500 as an example—how other factors come into play, so option traders need to pay attention to what real volatility is.
On Tuesday, the SPX settled down .49 points. This will show up as essentially as a 0 in realized volatility terms as measured by GARCH, which is what most brokerage firms use to measure HV. But does that tell the whole story?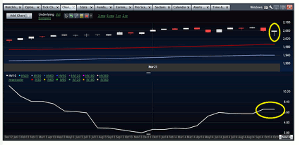 LivevolX® www.livevol.com
Click to Enlarge
The answer is no. The SPX was down as much as 25 points as fears out of China, Greece, the US, interest rates, and, really, the rest of world took a dive. The point of this is that that when doing analysis one needs to pay attention to what real volatility is. In addition, pay attention to how hard it is to be short a contract. There are a lot of option mentors that will get up in front of a crowd and explain how easy it is to sell premium because IV is overpriced. This is true for those that trade delta neutral. It does not tell the whole story for retail traders.
The Trade:
We think there is a long-term increase in IV and overall volatility to uptick in the next quarter. We think the next couple of days will calm down. A short put spread might make some sense.
By Mark Sebastian, Blogger and Contributor, OptionPit.com