Stocks Are in a Ball of Confusion—But Not Too Much
01/16/2015 8:00 am EST
Focus: OPTIONS
Andrew Giovinazzi, of OptionPit.com, explains that global growth worries that spanned the globe earlier this week were due to a combination of negative news that also affected the VIX, VIX futures, and the S&P, and he offers his trade suggestion as well as when to exit the trade.
I am not sure what the confluence of news was that made folks nervous but it seemed to be a combination of retail sales, no ECB QE, and the latest weak data out of China.  That was enough to drive VIX into the 23 handle briefly and set the VIX future curve backward to Aug.  We did get a close of Jan VIX close Aug however. The vol traders could not hold the Jan too backward overnight.  They could not push it lower, however, so a little more movement is still expected.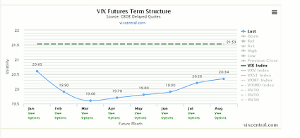 http://www.vixcentral.com/
Click to Enlarge
What we have is the Vega rich SPX options priced well over VIX futures.  In the case of buy low/sell high, the arb would be to sell options in the SPX and buy them to hedge in the Vol future products. If one were to sell puts in the SPY, keeping a rolling hedge in VXX or similar should end up making a nice trade.
The VIX futures tell us VIX cash is not going to stay here for too long but we don't know when the slide starts.  We need more news to keep the moves going.  That is why we work a trade with sides to unwind.  If the market does rally, the drop in VIX should be faster than the drop in the VIX futures.
The Trade
We can sell OTM put spreads in SPY or SPX and hedge with upside calls or call spreads in VIX.  Make sure the SPY credit is nice and you get several short-term SPY/SPX put sales against the VIX call spreads.  When the arb compresses, close.
By Andrew Giovinazzi, Chief Options Strategist, OptionPit.com