Seismic Shifts in the EuroZone
01/19/2015 8:00 am EST
Focus: OPTIONS
Andrew Giovinazzi, of OptionPit.com, explains how the markets were still reeling from Thursday's surprise move by the Swiss National Bank and he offers some actionable advice for option traders in preparation for this week's ECB meeting on January 22.
Any domestic news Friday was overshadowed by the Swiss pulling the currency peg on the euro.  The old 1.2 Swiss franc to euro is gone as the two quickly swung to parity.  This led to a rip in the Swiss stock market to the tune of a 10% drop.  To put that in perspective, the SPX would be down 200 handles on the open for a move like that.
Maybe the Swiss thought they could no longer maintain their peg with the euro sliding.  If Mario Draghi pulls QE in Europe on January 22, there would be even more pressure on the Swiss to buy euros.  At this point, they said enough is enough. What we got was a giant jump in the FX as every macro currency fund got stung with the wrong side of the trade.  A 15% jump in a currency is short covering and a big ouch.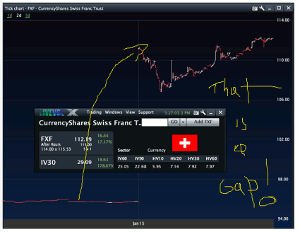 LivevolX® www.livevol.com
Click to Enlarge
US stocks were only down a hair under 1%.  Without the prospect of QE here, there was little to hold up equities in the rush to raise cash today.  This also makes it hard for the Fed to raise early.  A tea leaf read would say the Swiss bailed because QE in Europe is looking more likely.  That would be the crazy headline news that would make stocks soar. January 22 is the day, so mark your calendars.
The Trade
As we approach the 22nd, look for cheap upside butterflies in the SPX.  The Weekly 23rd cycle would be a good place to accumulate down here since the market keeps selling off.  Buy a junk put per fly, but in the next cycle, since the selloff on no QE could get ugly.
VIX will probably stay above 20 for some time into the event next week.  It feels a bit like the Swiss let the cat out of the bag early.
By Andrew Giovinazzi, Chief Options Strategist, OptionPit.com