Join Bob Lang LIVE at The MoneyShow Las Vegas!
Join Bob Lang LIVE at The MoneyShow Las Vegas!
Options Trading Strategies: Insurance is Cheap—Why Not Buy?
03/24/2015 8:00 am EST
Focus: OPTIONS
Bob Lang, of ExplosiveOptions.net, highlights the ambivalent nature of buying insurance—unloved when spending money on it—loved when it is needed. Plus, as an options trader, he highlights his preference for buying puts, specifically index puts.
Buying insurance is one of those necessary evils that we all dread shelling out for, but are super thankful we have it when we need it. If you break a leg, get in a car accident, or come home to find your computer and jewelry gone, you practically want to hug your insurance policy.
Of course, you buy insurance way ahead of time, way before you might need it. If your neighbor's roof is on fire and the wind is blowing in the direction of your house, do you jump on the phone with your insurance agent to get coverage pronto? Nope, you buy insurance when you buy your house, even though the thought of throwing money away without a guaranteed benefit or payoff down the road is excruciating. Since we cannot predict the future, we do our best to insure against a bad outcome.
So what does insurance have to do with options trading? The stock market allows traders to buy insurance as well as, something that many new traders do not know. One of the options trading strategies I use all the time is buying puts; specifically, I buy index puts. My choice is usually SPY puts, but I will also add IWM and QQQ to help protect me against a long portfolio.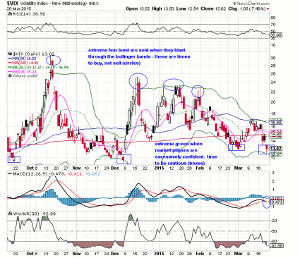 Click to Enlarge
Protection is currently cheap, so why would you not want to buy it? I know it's cheap right now, because the VIX is currently sitting around 13% (see the chart), a low absolute level that tells us the market is not expecting big movements over the next 30 days or so. VIX futures are elevated, which tells us that market players expect more volatility in the months ahead (FYI, these bets have been mostly wrong over the past few years).
Looking at the option montage, the SPY 209 put expiring in April (just out-of-the-money) is selling for $1.65. Even better, you could buy a put spread, say the Apr 209/205, for 80 cents. If a correction happens and the markets back away toward 2050 by then, this trade could be a huge winner. I always insure 1-2% against my portfolio, so a $100,000 portfolio will need $1-2,000 of insurance.
Now, everything I just said is what I expect to happen when the market is complacent and we are fairly certain that prices will not drop. Indeed. With that hubris, it makes sense to be contrarian (at least in the short-term) and buy some puts…just in case.
By Bob Lang of ExplosiveOptions.net