Get Ready to Buy Puts—The Selling Pressure Will Build This Week
04/21/2015 8:00 am EST
Focus: OPTIONS
Given last week's choppy action, option trader Pete Stolcers, of OneOption.com, suggests resistance is strong and the market lacks a catalyst. He recommends traders line up stocks that have hit resistance and haven't been able to rally with the market and to be prepared to buy puts.
Posted 9:20 AM ET Monday—Last week, the market chopped back-and-forth and we finished right where we started. The S&P 500 is trading at the upper end of the range and resistance is strong. The market lacks a catalyst and the selling pressure will build this week.
The Fed won't hike rates until September, perhaps even later. This dovish stance is already priced into the market and stocks have not been able to move higher on the news.
China lowered bank reserve requirements by 100 basis points over the weekend. This move was largely expected. Unfortunately, Asian markets are down on the news. Central bank money printing is not stimulating economic growth.
China's activity has gradually been slipping and they will post flash PMIs on Thursday. The news will be disappointing, but as long as the PBOC continues to ease, the bid to their market should remain stable.
Earnings season will start to unfold this week, but there aren't too many huge announcements (IBM, AMGN, YUM, MCD, KO, BA, QCOM, CAT, MMM, LLY, PEP, MSFT). The bid to our market should remain fairly stable. I'm particularly interested in the industrials on Thursday. Global economic conditions are soft and guidance could be weak.
With each passing day I grow little more bearish. I'm only interested in shorting this market and I will be watching for late day selling. If the SPY closes below $208, I will buy some puts. I will add to the position if we close below the 100-Day MA (SPY $206.50).
Resistance is strong and the market lacks a catalyst. Profit-taking will build as earnings season unfolds. Stocks are trading any rich forward P/E of 18 and guidance will disappoint. We are also entering seasonal weakness (Sell in May and Go Away).
Greece will need money and major loans will come due in the next two months. They are not helping their own cause and the rhetoric remains harsh. Greece will meet with the EU this week. Grexit is likely this summer.
I noticed technical breakdowns in retail last week and I will be buying puts on those stocks. Energy stocks have rebounded nicely and I believe they are vulnerable. Even after beating earnings estimates, these stocks have barely been able to move higher. Guidance in the energy sector has been cautious.
The market has been trapped in a trading range the last six months. If you look at a chart, you will see the major moving averages creeping closer and closer to the current price level. This means that major technical support will be broken with greater frequency.
I will patiently wait for signs of weakness. Late day selling and technical breakdowns will prompt me to take action. Ideally, the market will hold up this week. I don't relish the thought of getting short before mega-cap tech stocks (MSFT, AAPL, GOOG, FB, and BABA) announce. I will feel much more comfortable shorting after Apple announces a week from Monday.
Don't get me wrong, if technical support is breached, I will buy puts. I will do so knowing that I will probably have to weather a few rallies when these companies announce.
Line up the stocks that have hit resistance and that have not been able to rally with the market.
Be prepared to buy puts.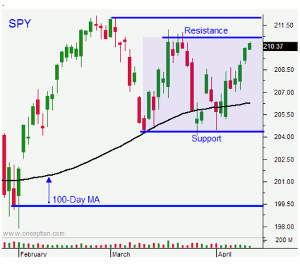 Click to Enlarge
By Pete Stolcers of OneOption.com