Buy Puts—Market Is Tired
05/01/2015 8:00 am EST
Focus: OPTIONS
Option trader Pete Stolcers, of OneOption.com, highlights why—with mega-cap tech stock earnings and the FOMC statement behind us—he will now be more aggressive with his put purchases and suggests looking for shorting opportunities.
Posted 9:00 AM ET Thursday—Wednesday, the market started the day off near an all time high and weakness in Europe sparked profit-taking. The FOMC statement did not attract buyers and stocks finished lower. Prices are strained at the upper end of the range and resistance is strong.
Mega-cap tech stocks pushed the market to new highs last week and the breakout Monday morning looked like it might take root. Apple (AAPL) was on deck and the NASDAQ was making a new all-time high. Stocks reversed Monday and that was the first warning sign. The FOMC statement Wednesday failed to spark a rally. This is the first time in many months that we have not seen a bullish reaction and it is the second warning sign.
Q1 GDP came in at a dismal .2%. Our economy is barely treading water. The theme from the 2014 polar vortex is repeating itself. Analysts are dismissing the number and they are calling for a spike in Q2 activity fueled by pent-up demand. This theory did not pan out in 2014.
ISM manufacturing will be released Thursday and I believe the number will be light. Big economic releases will be posted next week (ISM services, ADP, and the Unemployment Report). Traders are expecting a rebound in the jobs number.
All of the catalysts that could have forced a breakout have passed. The market is at the top of the trading range and it is entering a period of seasonal weakness.
Wednesday I spent the day looking for shorts. I viewed a list of the S&P 500 components and I was shocked to see that two thirds of the stocks are already on a sell signal. My trading system has been getting short this week at a time when the market has been a few points from the all time high.
The QQQ staged a breakout last week and that breakout has failed. Bullish speculators were lured in and they are on the brink of getting flushed out.
Central bank money printing is not stimulating economic activity, but it is propping up the market. Interest rates are at historic lows and equities are the only game in town.
Stocks are trading at a rich forward P/E of 18. There is room for profit-taking and I believe we are ripe for a pullback.
I bought puts Wednesday and I will buy more Thursday morning when we breach SPY $210. If we close below that level Thursday I will add to the position. The market has not been able to advance and the 100-day moving average is creeping closer and closer. We can expect to breach it with greater frequency. If the SPY closes below $206.70, I will add to my put positions.
With mega-cap tech stock earnings and the FOMC statement behind us, I will be more aggressive with my put purchases.
Look for shorting opportunities.
I am expecting us to probe for support Thursday.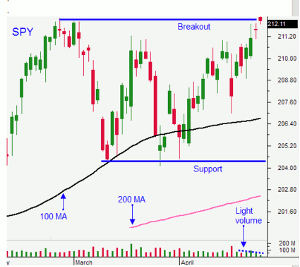 Click to Enlarge
By Pete Stolcers of OneOption.com