VIX Complex Is Creepy in Movement
09/02/2015 8:00 am EST
Focus: FUTURES
Option trader Mark Sebastian, of OptionPit.com, highlights the movement in VIX futures and points out that when a trader is unsure of a market, it pays look for the signals flashing hardest and try to interpret what they are saying. Mark also shares a few possible trades that look interesting to him at the moment.
Wes Craven's swan song might be the creep movement in VIX futures. Usually, when the VIX spikes higher as enters a backwardation period we expect the futures curve to slowly get steeper and steeper as VIX cash moves higher. One of the truly odd things in the VIX over the last three days has been the way this assumption has been thrown out the window. On Friday, we watched as February moved in percentage terms more than September. On Monday, Oct and November moved almost as hard as September again. Notably odd was Oct and Nov moving at the hip. Take a look at the movement in the curve the last three days.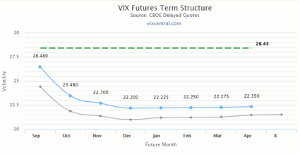 Click to Enlarge
My take, while the SPX was down a little more than 1% Monday (considering all the way to the 4:15 ET close), the VIX and its complex is acting like its only the beginning. I think markets are terrified of China and the ambiguity out of Fed officials is driving up implied volatilities. With the curve this steep and backward, the market expectancy on a portfolio of long stocks is extremely negative. That being said, I have never seen the backend move this way, I have more research to do.
The Lesson:
When one is unsure of a market, look for the signals flashing hardest and try to interpret what they are saying. In the meantime, look for answers to the questions one might have.
The Trade:
Long VXX and VXZ both look interesting here. VXZ seems like it might be an outperformer the last few days might be an interesting way to play a time spread; especially with movement in the back end of the curve. I might even examine a VXX vs. VXZ ratio trade of some type.
By Mark Sebastian, Blogger and Contributor, OptionPit.com