Astrological Market Trifecta
06/15/2019 11:50 am EST
Focus: TRADING
The week June 17-21 features three significant astrological events that could affect the Fed, crude oil, gold and stocks, writes Susan Gidel
The week kicks off with the Full Moon in Sagittarius on Monday that could shed light on two pieces of news that appeared at the New Moon two weeks earlier—potential antitrust investigations among prominent technology companies, and Fed Chair Jerome Powell's comments about doing what is necessary to support economic growth.
Second, on Wednesday, there is a powerful tug-of-war between Mercury and Mars on one side and Pluto and the Moon on the other. This is dark, intense energy that could spill the beans about deep, dark secrets concerning debt. So, pay close attention to what the Fed says in its 2 p.m. (EDT) announcement from its two-day meeting. Mercury's involvement says there will be talk about debt, but Mars alongside says there will be action, too.
Finally, the summer solstice arrives at 11:54 am on Friday (EDT), when the Sun enters the sign of Cancer. To legendary trader W.D. Gann, this is one of the 10 days each year to watch for a change of trend. Indeed, the S&P 500 has been particularly sensitive to these points recently, having topped at the fall equinox in 2018, bottomed at the winter solstice in 2018, and making an interim high at the spring equinox in March.
Wednesday, June 19
• High in Crude Oil: On Wednesday, June 19, both Mercury and Mars are opposite Pluto and the Moon in the sky, creating a dark intensity. Plus, this same opposition is at a 90-degree angle to Mars in the crude oil first-trade horoscope chart, which lets that intensity escape through the crude oil Mars. Also, the money planet Venus is opposite the position of Jupiter and Uranus in crude oil's first-trade horoscope. Both the T-square and the Venus opposition are signatures of market highs in crude oil. Look for resistance at the planetary price conversion levels of $56.80 per barrel, and especially $57.20. Next up would be $60.90-$61.00.
• Low in Gold: The Mercury/Mars opposition to Pluto/Moon on Wednesday, June 19 activates the planet Venus in the first-trade horoscope chart for gold, which often is in play at the time of market lows. Transiting Pluto and the Moon are aligned with Venus, while Mercury and Mars are opposite, creating strong tension. In addition, transiting Venus is opposite first-trade Mars, while transiting Sun is trine to first-trade Uranus. Look for planetary price conversion support in August gold at $1,328-$1,334 per oz., then $1,291.
Friday, June 21
• High in S&P 500: This is the day of the summer solstice, when the Sun enters the sign of Cancer, and markets are ripe for a change in trend, according to W.D. Gann. On Saturday, June 22, the launch-day position of Mercury in the S&P 500 horoscope is activated by the transiting Moon, which is conjunct, and the transiting Sun, which is 120 degrees away. The planetary price conversion level of 2944 should show considerable resistance. The next stop higher would be 3003-3010.
Last Week's Scorecard (through Thursday's close)
Bullseye!
• High in Euro FX on Friday, June 7: The June contract scored a high of $1.13550 on June 7, just below the planetary price resistance level of $1.136 to $1.138.
Pretty Darn Good
• High in 10-year Treasury note on Monday, June 10: This market high arrived the previous Friday, June 7. But, at 127-195, it was right in between the planetary price resistance levels of 127-07 to 128-05.
• High in S&P 500 on Wednesday, June 12: Stocks made a high of 2910.69 on Tuesday, June 11, remaining below planetary price resistance at 2944.
Off the Mark
• High in Gold on Tuesday, June 11: Gold made a low on June 11 at $1,323 per oz. in the August contract. The high was at $1,352 on Friday, June 7.
• High in Soybeans on Tuesday, June 11:The big rally in soybeans came on Wednesday, June 12, with July closing 18.75¢ per bu. higher.
The position of planets in the sky as they relate to their positions when a market first began trading can provide clues to potential trend changes. The energy is strongest on the days noted in this post, but it is not unusual for the effect to be seen a day or two either side. See backgrounder "Market Analysis with Astrology" for further information.
Related Articles on TRADING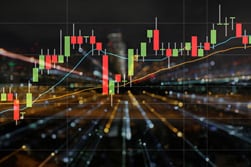 Astrological Market Trifecta
06/15/2019 11:50 am EST
The week June 17-21 features three significant astrological events that could affect the Fed, crude ...