A Medical Tech Money Machine
03/05/2013 10:30 am EST
Focus: STOCKS
Time equals money for this health-care company, which is profiting from a slow but long-overdue...and legally mandated...trend, writes John Persinos of Personal Finance.
The Health Information Technology for Economic and Clinical Health Act, or HITECH, is the part of the American Recovery and Reinvestment Act of 2009 that includes $19.2 billion for financial incentives to physicians and hospitals to adopt electronic medical records, EMR for short.
The company best positioned to benefit from this regulatory landscape is Allscripts Healthcare Solutions (MDRX). Its revenue has more than doubled from $548 million in 2009 to about $1.44 billion in 2012—and it faces even better days ahead.
Health-care spending as a share of US gross domestic product reached an all-time high of 18.2% in 2011, up threefold since 1960. Advocates of EMR argue that the technology will not only reduce costs and eliminate administrative waste, but also enhance the quality of care.
Allscripts saw the writing on the wall sooner than its competitors. It lined up clients during the nascent stage of the EMR transition and lobbied hard on Capitol Hill for HITECH's passage. Now the company's prescience is paying off.
Payments are made incrementally, with larger payments in the early years and lower payments over time, each totaling as much as $64,000 (for individual providers) and up to $11 million (for hospitals), according to formulas that take into account the amount of health services provided.
Adding further urgency to EMR adoption are the strict penalties for not doing so. If an EMR solution is not implemented by 2014, not only will health-care providers be unable to collect reimbursement, but they also will be subject to onerous financial penalties.
To ensure that every dollar is used for the intended purpose of promulgating EMR, physicians and hospitals seeking to qualify for incentive payments must demonstrate that they're actually using the technology.
Allscripts foresaw this all-important criterion. In addition to providing the integrated software packages necessary to digitize health records, the company also handles implementation and records management and helps providers prove meaningful use to the federal government.
The company will benefit from its entrenched position in the field and the fact that the sector is fast growing but still underpenetrated. As the chart below shows, US primary care physicians are woefully behind their counterparts around the developed world when it comes to the use of EMR: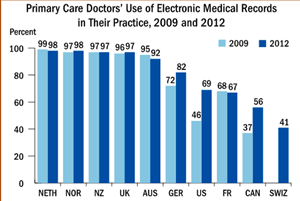 Click to Enlarge
Despite significant gains since 2009, the US still ranks near the bottom among industrialized nations in terms of adopting EMRs, laying the groundwork for an EMR "gold rush" for at least the next two years, as stragglers race to catch up and beat the federal deadline:
Allscripts' torrid growth rate has moderated somewhat, which in turn has kept its stock valuation at reasonable levels. For the fourth quarter of 2012, the company posted bookings of $180.7 million, compared to bookings of $327.4 million last year, and $161.9 million in Q3 2012.

Revenue was $350.9 million, compared with 2011's revenue of $388.2 million. Earnings per share were 16 cents, compared to 25 cents in the same quarter a year ago.

Despite its recent slowdown in growth, Allscripts still faces excellent long-term prospects. More than 160,000 physicians, 800 hospitals, and nearly 8,000 post-acute and home-care organizations already use Allscripts' data-management solutions. This substantial referral base gives the company a leg-up on competitors vying for this vast pool of potential business.

With a forward price-to-earnings (P/E) ratio of only about 12, Allscripts boasts one of the lowest valuations in the booming health-care technology industry, which averages a P/E of about 30.

The adoption of EMRs is a secular trend that's also buttressed by a multibillion-dollar federal incentive program. Allscripts is in the healthiest shape to reap the spoils.
Subscribe to Personal Finance here...

Related Articles:
Profits + Dividends Equal Hearty Stock
Growing Healthier Through Acquisition