Where Does Apple Go From Here?
04/05/2012 10:30 am EST
Focus: STOCKS
Now that the biggest growth story of the past few years has become the biggest dividend story of the past few months, it's time to figure out what's next for the stock says James Trippon of Dividend Genius.
A couple of weeks ago, leading tech stock Apple (AAPL) did what many thought it might never do: agree to pay a dividend.
The stock, which has traded at over $600 a share, has heard many of its shareholders as well as institutional investors urge Apple's management to begin paying a dividend due to the large amount of cash the company has built up.
Apple management, particularly when late co-founder and former CEO Steve Jobs was alive, resisted paying a dividend, but finally relented under the leadership of new CEO Tim Cook. The company will pay a quarterly dividend of $2.65 per share, which will be an annual payout of $10.60 per share, for a current yield of around 1.75% at Apple's current share price of $605. The total annual payout to shareholders will amount to roughly $10 billion.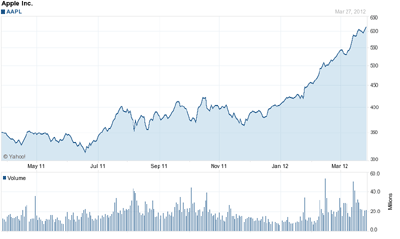 Click to Enlarge
Apple in its recent history hasn't paid a dividend, so the company's new policy represents a vast departure for it. The company also announced a stock buyback program of up to $10 billion worth of its shares.
Apple's market value, which now stands at $564 billion, makes the stock's weighting in the S&P 500 index now roughly 4.3%, and the stock has seen its share price run up more than 80% in the last 52 weeks. Apple now assumes a position in the S&P similar to IBM (IBM) during its heyday in the mid-80s.
Apple's success has led to it building up a cash and cash equivalents pile of nearly $100 billion. Although much of this stockpile is in short-term investments, some of which is held overseas and would be subject to tax consequences should it be converted into cash, the plan for both the dividend and the buyback over the next three years will still leave more than $50 billion, or over half of the cash hoard, intact.
That's without even considering that the stockpile of cash and investments will be replenished by Apple's tremendous revenue machine. Apple nearly accumulated $50 billion in cash from operations in the last year, yet it spent only around $4.5 billion in capital expenditures. Apple has not historically been a company that makes large acquisitions, either.
The clamoring for tech dividends has only increased in the last couple of years. Many of the tech companies, such as Apple, Google (GOOG), and others, carry no debt or minimal debt and have large cash piles.
Investors have suggested that Google, with its roughly $35 billion to $40 billion net cash, or even Amazon.com (AMZN) with its nearly $10 billion in net cash, would be prime candidates to join the dividend-paying set.
What is fascinating is that many tech stocks, Apple chief among them, would seem to have no intention of surrendering their role as growth stocks even if they end up paying out cash to shareholders. That will be a development surely worth watching.
There were many Apple bears prior to the dividend announcement, so the announcement of the payouts to shareholders has likely intensified that bearish sentiment.
A more mixed opinion is that Apple's innovations inevitably will be slowing down without Steve Jobs at the helm anymore, so many investors see the pragmatic value of the dividend. Still others feel that the innovation will continue, as Jobs had imbued enough of the entrepreneurial spirit in Apple to sustain its run forward continuing with new products.
Time will tell on the product and revenue front, but as for the stock itself, the payment of a dividend will likely attract more institutional value-oriented funds, or value-growth funds. These money managers are often bound by the themes of their investment funds, some of which require that the stocks purchased pay a dividend.
So, for current Apple shareholders, the possibility of further share price appreciation due to even more broad-based participation by the investment community could be yet another benefit of owning shares.
Subscribe to Dividend Genius here..
Related Reading:
Good Reasons to Link to this Stock
2 Comeback Stories with Good Yields