Dimon a Bit Roughed Up
05/22/2012 8:00 am EST
Focus: STOCKS
After the US banking meltdown began in 2008, CEO Jamie Dimon was the poster boy for big bank restraint without sacrificing ingenuity...but he started to believe the press, and now has plunged his reputation and bank into the same lot with the other overextended and sloppily run financial institutions, observes Jim Trippon of Dividend Genius.
JPMorgan Chase & Co. (JPM), one of the largest and most important banks in the financial system, suffered $2 billion in a trading loss recently that roiled the market. JPMorgan stock was subsequently punished by investors, as they took it down nearly 10% on May 11, the first full trading day after the extent of the losses were revealed.
After closing at $40.74 the day before, the story came out and shares began to be sold in after-hours trading, a sell-off which continued the next day. JPMorgan had been considered the best of the big US banks, the one least tarnished by the financial crisis of 2008 and 2009, and the big bank that had made the most impressive comeback.
For stock traders, particularly those with very short time horizons as well as professional traders, the news had immediate impact. The financials have been in the crosshairs of regulators, investors, and traders ever since the subprime crisis nearly cracked open the financial system in 2008 and 2009.
Many traders were in and out of Bank of America (BAC) with its huge mortgage troubles as shares oscillated with potentially profitable volatility, and Citigroup (C) provided some similar spasms and price volatility for traders to exploit as it had such things as an astounding $800 billion in toxic holdings, essentially off-balance sheet financial waste that eventually found its way into a creative repository called Citi Holdings.
What About The Next Time?
The big, bad banks, with their irresponsible mortgage plays (Bank of America) and their questionable holdings (Citigroup), not only nearly brought the financial system down, but they have been hard to fix, hard to buttress.
Fortunately for investors, if you bought other things after 2008 and 2009, you could have made out very well. The economy and the market, despite the sick banks, was healing.
But there was always the nagging question, how can you have a truly healthy economy with such weak, propped up banks? And to those who remember the almost horrifying revelations of quarter after quarter of $40 billion or $50 billion in serial writedowns from Citi, as well as the inexplicable mortgage investments by BAC, the nagging feeling was, what if these banks do this stuff again? Will the markets be able to bear it? Will the economy?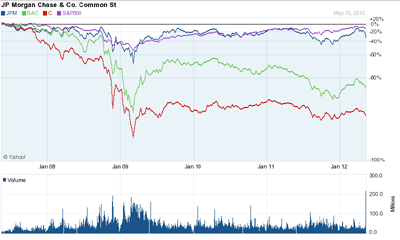 Click to Enlarge
The $2 billion losses, which even the bank admits may reach as much as $3 billion or more when the counting is done, are in and of themselves neither enough to do significant damage to either the market or the economy. JPMorgan, even after $15 billion was lopped off its market value, still carried a market cap of $140 billion.
But a Reuters report carried the ominous phrase, "the exact nature of the trading loss is unclear," which harkens back to the subprime days. Even the most sophisticated financial minds which may have understood CDOs and SIVs (or then again, maybe not) had a hard time following all the bodies, i.e. the counterparties, and figuring out where the risk was, or worse yet, where it ended.
The loss was characterized as a hedge, with hedge funds on the other side of JPMorgan's position profiting. So net-net, it's a zero sum trade. It does, however, have implications for the markets.
Charismatic and charmed CEO Jamie Dimon, who sailed his bank through the financial crisis by taking far fewer hits than Citi or BAC, had rebuilt the balance sheet, earnings, and—dear to dividend investors' hearts—the dividend, which was built up to pay out an annualized 2.9%. Not that great, but compared to Citi and the still writhing BAC, sensational.
Dimon has criticized banking regulation, but it's clear that consolidation has amassed more assets than ever in a fewer number of large banks. Add the trading loss, and the bets which caused it that Dimon previously denied were risky, but later admitted were "stupid," and you get a picture that's more troubling when it's clear that, as of this writing, JPMorgan's management doesn't seem to have a handle on what went down and where everything is.
Fitch lowered its ratings, wasting no time assessing that "potential reputational risk and risk governance issues raised at JPMorgan are no longer consistent with an 'AA-minus' rating."
JPMorgan's losses do and don't have to do with dividend investors. The collateral takedown was that all the financials were hammered by the market due to JPMorgan's sins. Financials may not be suitable dividend stocks for years if not decades, given the companies' behavior and performance.
The S&P quickly regained its overall footing, and solid dividend payers are out there doing good business, increasing their dividends. We just hope that no more banking fiascos wreck the party for dividend stocks and dividend investors.
Subscribe to Dividend Genius here...
Related Reading:
Look Beyond the Usual Dividend Suspects
How Annuities Can Work Within Your IRA