MassRoots' 2016 Marijuana Initiative Overview Indicates Strong Support
06/30/2016 12:30 pm EST
Focus: CANNABIS INVESTMENTS
Advertorial-Isaac Dietrich, CEO of MassRoots, one of the largest and fastest growing technology platforms for the cannabis industry, released an overview that shows strong support for the legalization of cannabis in several swing states expected to vote on cannabis regulation this fall.
An April 2016 report from ArcView Market Research and New Frontier Financial projects that at least five of these initiatives (CA, FL, NV, MA an ME) will pass, which would cause the regulated cannabis industry to grow from $5.7 billion in 2015 to $23.1 billion in 2020.
"Elections have the ability to create new markets, reshape economies and change the course of history," stated MassRoots CEO Isaac Dietrich. "We believe 2016 will be a watershed moment in which states with close to 30% of the American population could vote to regulate the production and sale of cannabis."
Click here to make a donation to the Marijuana Policy Project to help these initiatives become law.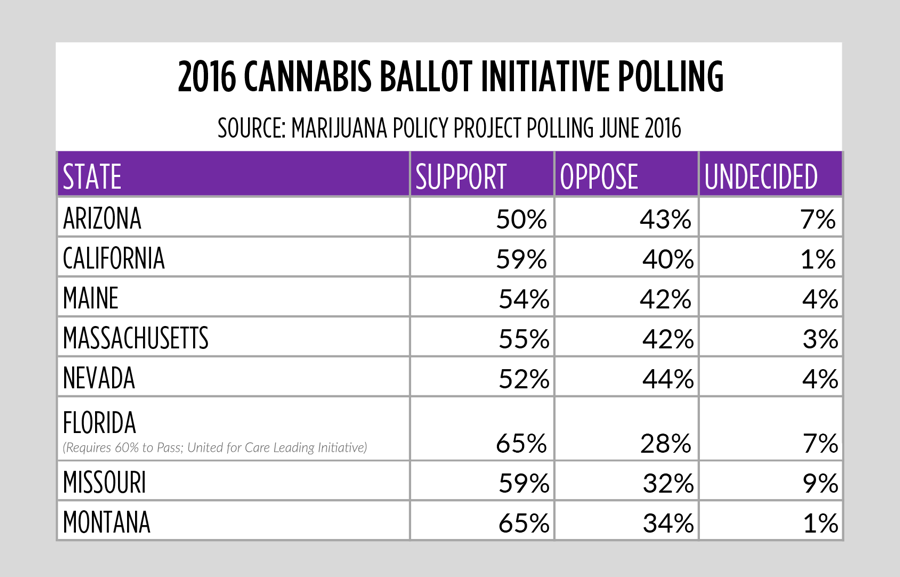 Click to Enlarge
MassRoots' business model is designed to benefit from this trend. When a new state passes a medical or recreational cannabis law, MassRoots can register users and businesses in that state with minimal marginal cost. Because it is not involved in the production or sale of cannabis, MassRoots does not have to build out grow operations, open retail stores, or have a physical presence in the state in order to generate revenue. At the same time, MassRoots' financial model is not tied to the success of a particular location or brand – the Company believes it will have a significant percentage of all dispensaries and brands on our platform, making MassRoots a play on the industry as a whole.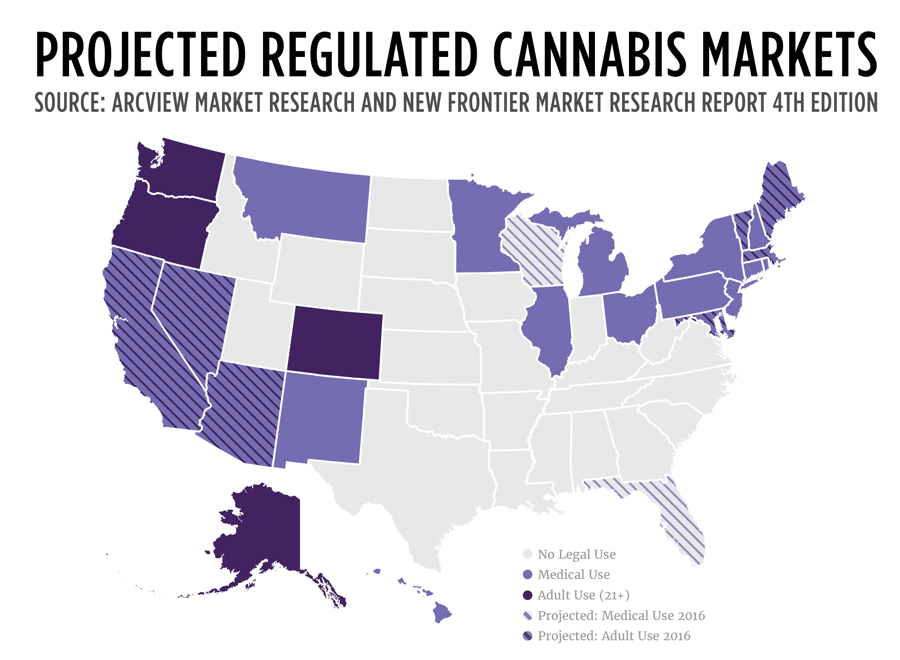 Click to Enlarge
MassRoots is also in a unique position to help these legalization initiatives become law. With 900,000 users on its network, the Company believes it has the reach and scale to raise awareness of these initiatives, push voter registration, and drive grassroots donations to these campaigns. To be clear, MassRoots does not intend to allocate material shareholder resources to these campaigns, but to use its social reach and influence to help legalization initiatives pass. Not only will this help expand regulated cannabis markets and the Company's potential revenue, but it will raise awareness and improve favorability of the MassRoots brand amongst cannabis consumers.

Click to Enlarge
"We're asking our subscribers, clients and shareholders to make a donation to the Marijuana Policy Project to help these initiatives become law," stated MassRoots CEO Isaac Dietrich. "Without MPP's leadership, the cannabis industry would not be in this incredible position – it's now our responsibility to push these initiatives over the finish line and accelerate the cannabis industry's already rapid growth.
By Isaac Dietrich, CEO of MassRoots
By clicking submit, you agree to our privacy policy & terms of service.
---