Is Tech the New Income?
Focus: ETFs
We've heard at times that "growth is the new income" and "income is the new growth," but now it seems tech is the new income, and there's a pretty compelling case, writes John Lounsbury of Investing Daily.
Dividend seekers can pay homage to their new king: technology.
The latest data from Standard & Poor's shows that the technology sector has dished out 14.22% of all dividends paid by S&P 500 stocks, edging out consumer staples for the top spot on the list of sectors' dividends paid. Longstanding dividend-paying sectors such as industrials, utilities, energy, and telecommunication are far down the list.
Of course, there are many more tech companies than utilities, which means the ranking is different on a per-company basis. Tech stocks average only a 2% yield compared to a 2.5% average for all dividend-paying stocks. The following table shows how dividend payouts are distributed among sectors (the data for this article's graphics are from S&P Equity Research):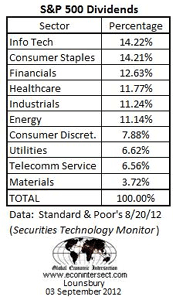 Click to Enlarge
The new king is aided in establishing his position by his sheer size. Technology is by far the largest sector in the S&P 500.
In just two quarters, the dividend yield of the tech sector has increased by a third, with a lot more room for growth.
!--start-->!-->
---