GBP/CAD Approaching Strong Support
04/20/2009 10:45 am EST
Focus: FOREX
The GBP/CAD has recently been moving up within a bullish channel. There is a bullish Gartley pattern that is contained within the channel. If the pair continues to move down, the Gartley will complete at the bottom of the bullish channel.
This is a scenario that leads to high-probability trading opportunities. We are looking to buy the GBP/CAD if it falls to 1.7714 (Point D). Point D is located at the convergence of the following points:
78.6% Fibonacci retracement of XA
161.8% Fibonacci extension of BC
AB=CD
Bullish channel
If RSI falls below 30
We will now go over what to watch for assuming the pair continues falling toward our entry at 1.7714. First, we need to watch how quickly CD completes. We are looking for the CD leg to drop slowly and enter the trade near our hypothetical entry on the eight-hour chart. If there are long bars near the completion of the CD leg, we will not take the trade. So far, the pair is showing good time symmetry, so long bars are unlikely at this point. Also, if the pair comes within 20 pips of reaching our entry, does not enter, and reaches T1 before entering, the trade is invalid. The trade is also invalid if the pair rises above 1.8100 before hitting our entry.
To recap, we will look to buy the GBP/CAD at 1.7714 with our stop placed at 1.7615. Our initial profit targets are 1.7885 (38.2% of CD) and 1.8016 (61.8% of CD).
See chart below for more details: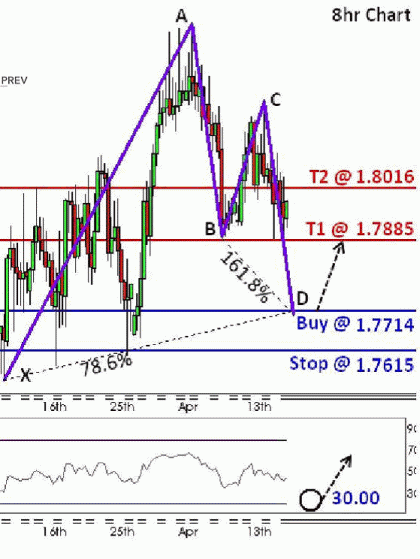 By Bradley W. Gareiss of GFTForex.com