A Forgotten Tech Name Is Breaking Out
03/15/2010 11:03 am EST
Focus: STOCKS
A technology company that was a hot stock in the 1990s is quietly breaking out to its highest levels in about 15 years. The company is Sybase (SY). One prominent commentator speculated that it would be a good fit for an acquisition by Hewlett-Packard (HPQ).
Taking a quick look at the fundamentals, trailing and forward P/E averages about in the 20 area, profit margins are close to 20% (healthy, as stocks in this sector usually are), and quarterly revenues grew about 9%. Debt is not a major issue and no dividends are paid. Short interest is fairly high at about 13% of the float.
But let's take a look at the charts, which tell the story of the stock in pictures.
The first chart is about 20 years of monthly data, on a monthly closing line basis. You can see that the stock peaked out originally in the early 1990s, well before the Internet bubble and the parabolic up moves of many tech stocks. Of note on here to me is the heavy volume of the uptrend in recent years. In addition, one could give upside targets as high as 70 just based on past data.
SY Monthly Chart

Click to Enlarge
Breaking it down to a weekly basis, you can see that since bottoming in late 2008 (months before the March 2009 broad market bottom), SY shares have been in a sharp uptrend. Pullbacks to the bottom of this range drawn by trend lines have proven to be good buying opportunities.
SY Weekly Chart

Click to Enlarge
Now to the most relevant chart for options traders and swing traders, the daily chart. You can see below that we had a breakout in recent days above the 45 level, which looks very significant. The 44/45 area should contain any pullbacks.
SY Daily Chart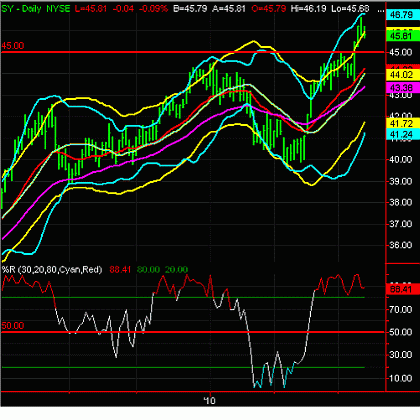 Click to Enlarge
Bottom line, I'm not convinced this is a great long-term fundamental buy, but the ideas about future growth and possible takeover are intriguing. On a shorter-term basis, a pullback to 45/44 looks to be a very good entry point for a bullish trade. First upside target would be 50.
By Moby Waller of BigTrends.com