The Long-Term Trade on Goldman Sachs (GS)
04/22/2010 12:01 am EST
Focus: STOCKS
Don't bet against Goldman Sachs (GS) in the long term. Although, in my view, some of these companies in the financial/banking sector are due for some punishment following their negligent roles in creating and blowing up the mortgage crisis, GS will likely emerge strong and profitable once they take their lumps.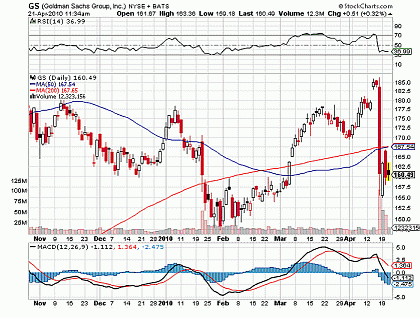 Click to Enlarge
Goldman is one of the most powerful (and smartest) companies in one of the most influential sectors in the US economy: Finance. Several of our recent Treasury secretaries were Goldman alums, and the SEC generally doesn't have the bite to match its bark when it comes down to the brass tacks of Washington lobbyists and hardball. (In fact, over the past decade, different New York State Attorney Generals have been more effective in attacking corporate malfeasance than the SEC). Some credit should be given the current Presidential administration for attempting to take on the excesses of Wall Street, but some of this is also trying to politically capitalize on a "Main Street vs. Wall Street" angle, which probably won't be that effective.
Has Goldman long used every method (legal, grey area, and otherwise) to make profits in virtually every form of trading and investment? In my view, yes, but as I wrote during the financial crisis of 2008/2009, Goldman Sachs is positioned to weather the storms and emerge fine in the end, whether we like it or not.
By Moby Waller of BigTrends.com