Trading HP's Buying of Palm
04/30/2010 12:01 am EST
Focus: STOCKS
HP buying Palm is a big win…for consumers. If Hewlett-Packard Company (HPQ) is serious about integrating Palm's (PALM) Web OS into all sorts of devices, then this could really throw a monkey wrench in Apple and Google's dominance in this area. I am leaving Blackberry out of this because I think this deal has nothing to do with the cell phones. HP bought a great OS, and as a consumer, I can think of several possibilities. Keep in mind that HP has experience in the handheld game with the iPaq that competed head to head with Palm. While this line ultimately could be considered a failure, the company surely has learned a great deal (the least being that its foolish to rely on a Microsoft OS in this space). They also have experience in multi-touch devices with their all-in-one PC's.
The first thought is of course porting WebOS to a tablet. This is logical and is almost a foregone conclusion, but how about a WebOS netbook or smartbook? How about porting WebOS into devices such as a TV, media sharing appliance, or even a refrigerator. I think Droid, or Linux variations, are the commonly assumed players in this space, but if HP really wants to take advantage of this opportunity, it will push the envelope and innovate. HP has historically relied on Microsoft for its devices, and this gives them a possible competitive advantage over their chief competition in Dell.
It's funny, but the initial reaction I saw from most traders was how HP was flushing their money down the toilet. Of course, there is always the chance that an acquisition will be disastrous—especially for a struggling company—but relatively speaking, this is not costing them too much, and if they take advantage of this opportunity, the impact to their bottom line could eventually be real. In my opinion, this is a good fit for HP as well. HP is a well-run company, and while smart people make mistakes, I have to give Mark Hurd the benefit of the doubt here. HP has been making great strides in corporate datacenters with their blade enclosures, and if you take a look at their chart, its stock price performance hasn't been too shabby.
HPQ is has been holding above a prior high after attempting to break out. It has held up relatively well in light of the recent weakness, but it will likely have a difficult time following through if the markets continue to correct. HPQ is actually not too far from all-time highs, which sit in the high $60's. While this is not a stock I would be looking to buy right now, it does reveal a company that appears to be healthy and that has institutional support. It's doubtful this acquisition adds anything of substance to the bottom line now and in the near future, but if HPQ plays their cards right, I think this could eventually work out very well for them. Of course, the biggest hurdle might be getting application developers to embrace this OS after so much effort and resources are being dedicated to Android and Apple. I'm not sure what HP's answer to this will be, but I understand it's no small task. It will be interesting to see how this all shakes out, that's for sure.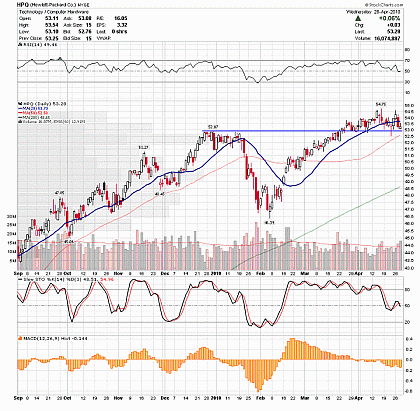 Click to Enlarge
By Joey Fundora, trader and blogger, Downtowntrader.blogspot.com