QQQQ at Critical Support
05/06/2010 12:01 am EST
Focus: STOCKS
Shares of the ETF Powershares QQQ Trust (NASDAQ: QQQQ) lost 3% on heavy volume on Tuesday, May 4 as US and global markets sold off. What's next for this volatile and widely traded ETF?
The Q's stopped at a strong resistance level two weeks ago. This was at the bear market rally high of $50.61 reached on June 5, 2008. $50.61 turned the stock market and the Q's lower then, and have done so again now.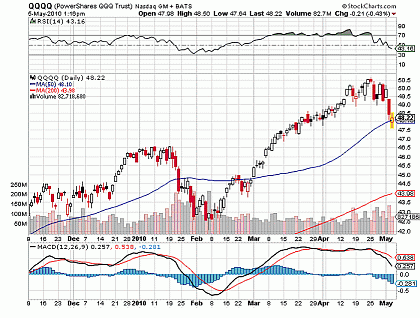 Click to Enlarge
The Q's closed just above their 50-day moving average, a level watched by many traders as short-term support.
Below this, should the Q's continue lower, are support levels at $45.33 and then $44.57.
This would exceed a 10% correction, so if we are on the cusp of a normal 10% correction, we could see buyers come in before either of these supports are reached.
By Frank Kollar of FibTimer.com