Metals Analysis for Traders
05/14/2010 12:01 am EST
Focus: COMMODITIES
It's been an exciting couple weeks in the market with gold now making new all-time highs as money floods into this shiny safe haven. It has everyone all worked up wanting to take part—or riding the rally up already. But the big question is when should some money be taken off the table to lock in gains and lower your overall risk during these crazy times?
Below are a few charts showing you how I see things at this time.
GLD: Gold Exchange Traded Fund
The price of GLD and gold appear to be going parabolic (straight up). The tough part about this type of price action is that large moves can happen in a very short period of time. But on the flip side, when the price reverses, we tend to see prices fall just as fast, if not faster. Trading this type of price action carries a very high level of risk. Chasing it up and buying at these overbought market conditions is a double-edged sword.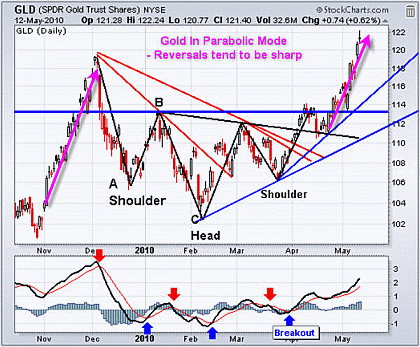 Click to Enlarge
SLV: Silver Exchange Traded Fund
Silver is trading similarly to gold, but the key difference here is that silver has not broken to a new high as of yet. The high was set in 2008 at just over $20 per ounce. But from looking at the chart, I think metals are ready for a breather.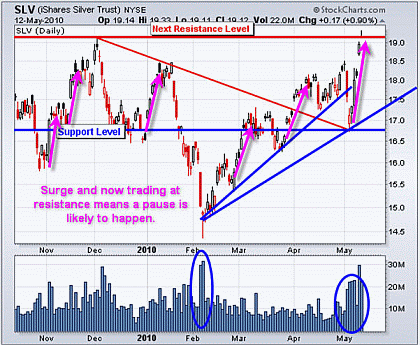 Click to Enlarge
HUI Index: Gold Stocks
Gold stocks have yet to break out along with silver as they both are nearing key resistance levels. With gold stocks and silver trading near resistance, I figure we will see a pause in the coming days as traders digest the recent strong moves up, taking some money off the table in case prices get stuck under these resistance levels.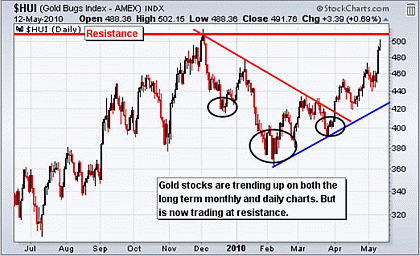 Click to Enlarge
By Chris Vermeulen of TheGoldAndOilGuy.com