Where Is Key Support for Oil?
05/18/2010 12:01 am EST
Focus: COMMODITIES
If you've been focusing your attention last week on the volatility in the stock market, you may have missed the sharp selloff in crude oil.
With half the month behind us, crude oil prices are down $12.50 (14.50%) for the month of May. Let's take a look at the weekly chart to note the key level that will either hold or fail as critical support.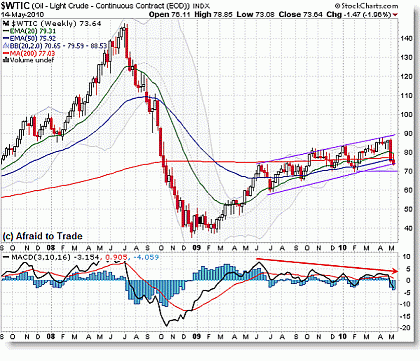 Click to Enlarge
From a chart perspective, oil has been in a rising parallel trend channel (purple lines) since July 2009… almost a year in the making.
Price has respected the upper and lower trend lines, as shown throughout the whole rally phase after the initial surge from $35 to $75 for the first half of 2009.
Where does that leave us now?
Price rests right around the lower boundary line, which corresponds with the $73.00 price level, which is where crude oil closed last Friday (May 14).
The prior week took us from $87.15 to 74.51. That's the largest weekly decline on the chart since December 2008 gave us a similar bar.
For now, keep a close watch on the current $73.00 level, and if support fails at $73.00, then we'll almost certainly see a test of the $70.00 level.
If buyers cannot hold the price support at $70.00, then we could see a selloff and "positive feedback loop" take us to test $60 over time, so it's important to watch what happens here and now.
By Corey Rosenbloom of AfraidToTrade.com