The Time Is Right for Athenahealth
02/10/2011 10:25 am EST
Focus: STOCKS
I first noted Athenahealth, Inc. (ATHN) in mid January, when I stated that it might need some time before becoming ready for a good trade. Well, now looks to be that time. Let me explain why by reviewing its price action going from a weekly time frame down to the daily and then the 30-minute time frame.
Weekly Chart Analysis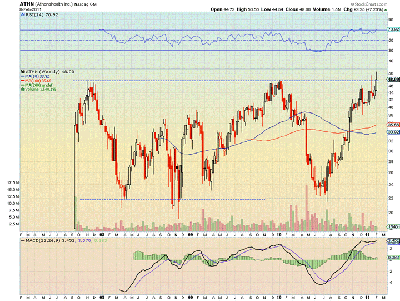 Click to Enlarge
The first thing to note on the weekly chart above is the long, broad channel going back to its second week of existence. This channel between roughly $22 and $47 is what first caught my eye, but there are other positive features. First, the Relative Strength Index (RSI) remains pointed higher as price is piercing the upper bound. Next, the Moving Average Convergence/Divergence (MACD) indicator is rising again after falling off slightly.
See Related:
The trend is clearly higher since July. One final note on the weekly chart to get your attention; technical analysis would teach that the target of a move off of a channel break would be equivalent to the width of the channel. That would place a long-term target at $72.
Daily Chart Analysis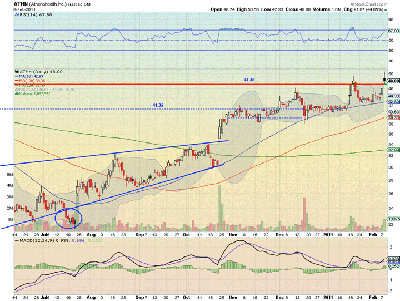 Click to Enlarge
The daily chart reveals that a break above resistance (refined to $47.40) has occurred for the second time in three weeks. Also, the volume on this each break was relatively larger, but not so large as to signal a deluge of selling. The RSI on the daily chart has been in bullish territory since mid August, but it's recently rising off of the midline, as it is breaking the resistance level.
The MACD is also becoming positive and crossed higher. The Bollinger bands are starting to expand on the move higher also. The candle printed on this latest break is the only dark spot. The solid black candle shows that despite it being an up day, the intraday price action was actually bearish, closing below the open. That being said, it did retest the resistance level and held above it, which is positive.
This stock looks ready. But what about the short-term time frame?
30-Minute Chart Analysis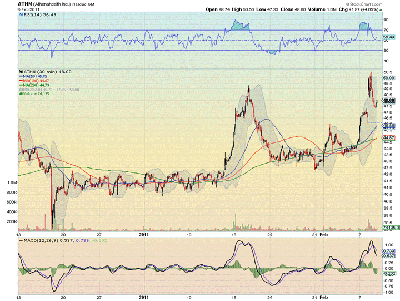 Click to Enlarge
The 30-minute chart shows that the stock opened by gapping higher on Tuesday (Feb. 8) before having some selling pressure at $50 and retesting the previous day's levels. By the end of the day, it was only briefly below the resistance level at $47.40 and closed higher. During this intraday action, the RSI never went below 50 either. This stock looks ready for an assault on higher ground.
If you have a shorter time horizon, then look for another test of $47.40 as an entry. If your horizon is longer term, then perhaps confirmation of a weekly close above $48 would be your entry. But either way, keep a sharp eye on this stock, because it appears ready for a move higher.
By Greg Harmon of Dragonfly Capital