Great Pattern Emerging in FRED
05/27/2011 8:00 am EST
Focus: STOCKS
With clearly defined support levels on the daily chart and a solid long-term pattern on the weekly, shares of retailer Fred's Inc. (FRED) are in play for daytraders and longer-term traders alike.
Retailer Fred's, Inc. (FRED) reported earnings yesterday (Thursday) morning and either beat expectations or fell short. I don't really care!
Actually, they reported and guided in line…boring! But knowing that the company was about to report was only a reason to not have traded it yet. Now that it has reported, it's fair game.
When I look at the chart of the stock on a daily basis, there is a nice consolidation occurring at resistance of the falling trend line from January.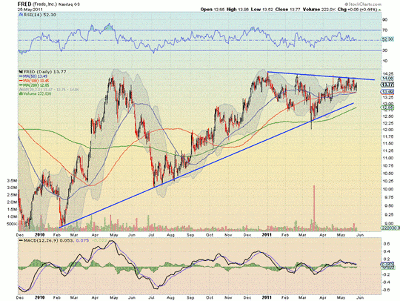 Click to Enlarge
The touches to that trend are becoming more frequent and the pullbacks shallower with the 50- and 100-day simple moving averages (SMAs) as support.
Analysis of this chart would focus on three points. First, a break above the trend line would trigger a buy looking for a move to the range of $15.75-$16. A failure there would trigger a short looking for support back at the SMAs or the uptrending support line below.
The second point is the two SMAs. Holding above them triggers a buy signal with resistance at the falling trend line, and falling below it triggers a sell signal with support at that rising trend line.
The third point is the rising support trend line. A hold above triggers a buy and a fall below triggers a sell with support at $12.25-$12.30, followed then by $11.75. That is what the daytraders care about.
But back it up a bit and look at the weekly chart below. That is a seven-year rounded bottom formation.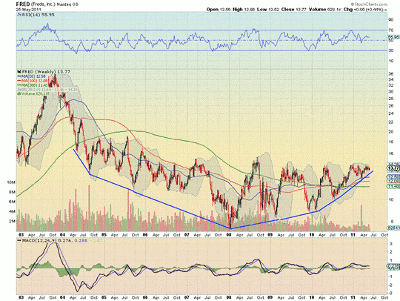 Click to Enlarge
Now that is a big butt! This is a stock for those with longer-term time frames. The basing shows a top around $15 that it needs to break, but from a weekly time frame, it looks very appealing for a long position.
A move above $15 looks poised to head higher, eventually targeting $22.50 or more.
By Greg Harmon, trader and blogger, DragonflyCap.com