Energy ETF Testing Critical Support
06/16/2011 8:00 am EST
Focus: ETFS
If key price support for popular energy ETF XLE is broken this week, it will send a strong sell signal and set up a likely move to clearly defined support more than 5% below current levels.
While scanning the major sector ETFs, a shelf of support (pattern) in the Select Sector SPDR - Energy (XLE) caught my eye.
Let's take a look at the current support level at $72 and then note a logical downside target if the key support level here fails to result in a rally as the next swing.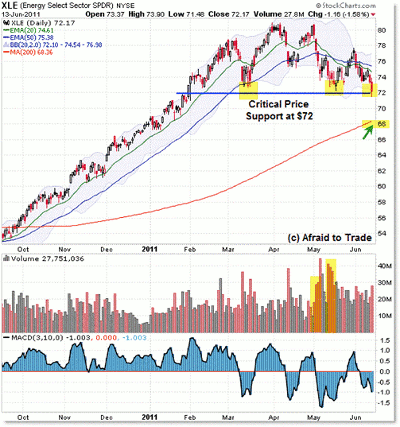 Click to Enlarge
You don't need magic indicators to tell you that $72.00 is a critical short-term price boundary in XLE.
That's because buyers and sellers are testing this level for the third time in 2011, and recent action took us to a fresh new intraday and closing low for 2011.
This means buyers have to step it up here and support price, or else we have a confirmed/triggered sell signal that allows for a play to the next logical support shelf at $68, which, as we'll see, is confluence support.
Pattern wise, it looks like a distributive phase resembling an imperfect head-and-shoulders reversal pattern. The $72 level reflects a strange neckline of the pattern and is something to watch.
Volume is showing distribution—namely, volume spikes during the sell phases and then diverges or declines during the rally phases in price.
Price is already under the 20- and 50-day exponential moving averages (EMAs), which are both separating bearishly at the $75 level.
In other words, the only thing bullish going for price right now is the support at $72. Should buyers lose that edge, we would expect sellers to capitalize on the failure, which would result in a push back to the confluence support at $68.
NEXT: See the Confluence Support on the Weekly Chart
|pagebreak|
Here's the weekly chart, which reflects the confluence: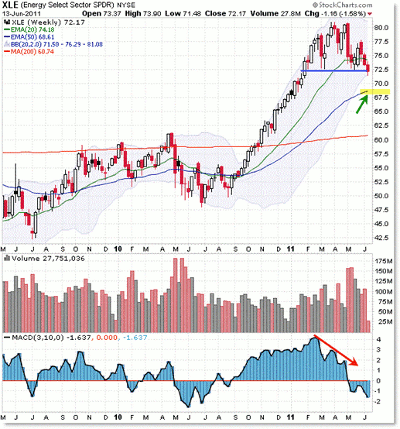 Click to Enlarge
There was a clean negative momentum divergence going into the highs at the $80 level—that's one for an educational reference.
Price officially broke down under the rising 20-week EMA at $74.00, and this break sets up a potential retracement back to the rising 50-week EMA at $68.70.
Coincidentally, the rising 200-day simple moving average (SMA)—a critical target once support fails on the daily chart—lies very close by at $68.40.
Here's the main idea: Should buyers fail to hold price (and force a rally) this week at the critical $72.00 price support shelf, then odds shift to favor further downside action, most likely to the multi-time-frame confluence in the $68.50 area.
Of course, watch crude oil for additional clues. Should oil continue breaking down through support, we'll almost certainly see the $68.50 target achieved in the energy ETF XLE.
By Corey Rosenbloom, trader and blogger, AfraidToTrade.com
Related Reading: