Apple vs. Dell: The Surprise Winner
06/30/2011 9:00 am EST
Focus: STOCKS
Tech titan Apple (AAPL) doesn't look so invincible when paired on the charts against the resurgent Dell (DELL), and a pairs trade set-up is now in the works as the two stocks continue their recent trends.
Apple, Inc. (AAPL) has been the tech innovation leader, creating the first the iPod, then the iPhone, and then the iPad. Dell (DELL) has been right behind Apple, creating the…let's see. Well, I am sure they created something new recently, I just have never heard of it!
It seems like given this backdrop, Apple's stock should be kicking Dell's can down the road. But take a closer look at the last six months.
First, AAPL: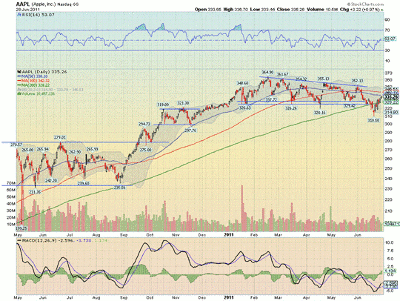 Click to Enlarge
Since January, Apple has done nothing but move back and forth in a descending triangle, the range tightening. But the below chart of Dell shows that it has been in a rising wedge for the first half of the year. Purely on a percentage-gain basis since the first of the year, DELL has done better in 2011.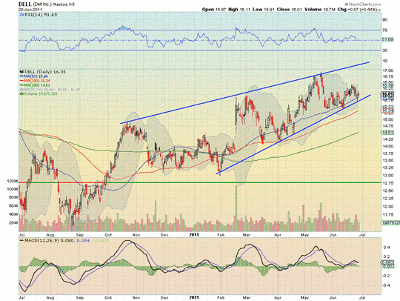 Click to Enlarge
NEXT: Pairs Trade Idea for AAPL and DELL
|pagebreak|
Combining the two charts into the ratio chart below shows a rising channel since February. Currently, the ratio is headed towards support of the bottom rail. As it gets close, the relative strength index (RSI) is at the midline, but pointing lower.
The moving average convergence divergence (MACD) has also just crossed negative. It looks like there is about to be a pairs trading opportunity. Watch what happens at the test of support at the rail near 0.047.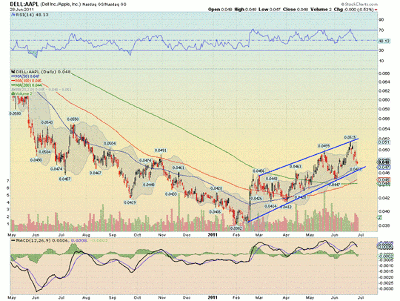 Click to Enlarge
So here's the trade idea: Buy 85 shares of DELL and sell short four shares of AAPL (or whatever size you'd like in that ratio) on a bounce off of the bottom rail.
Look for a rise back to the top rail at about 0.052. If it breaks below the rail, then sell short 85 DELL and buy four AAPL, looking for a move back to the gap up at the beginning of the channel at 0.040.
Use a stop loss near the top rail if you are short and bottom rail if you are long.
By Greg Harmon of DragonflyCap.com