2 Bullish Forces at Work for IBM
08/05/2011 9:00 am EST
Focus: STOCKS
Shares of IBM have been hard hit this week, but close proximity to strong support and longer-term fundamental drivers point to a favorable risk/reward entry point ahead.
International Business Machines (IBM) has been socked in the mouth just like most equities this week.
After a nice upside candle printed on the chart last week, it has slowly lost all of that day's gains and then some. However, there are reasons to be cheery about IBM's prospects in the coming trading sessions.
First, on a purely technical level, IBM has dropped down to an area of support at a previous swing low in the neighborhood of $175: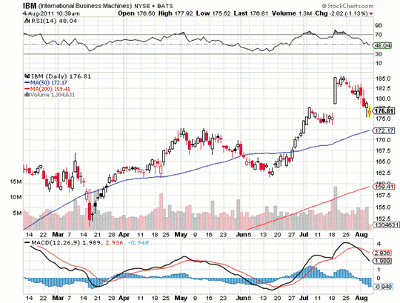 Click to Enlarge
The stock gyrated sideways in this area previously, indicating there was a relative balance of buying and selling in that area—a key indicator that the price level could provide support.
Not far below, the 50-day moving average continues to trend upward, providing another level of support.
On the fundamental side of things (and more long term in nature for the stock price), the recent hot topic of cloud computing should provide of boost for the veteran tech company.
I will also be watching the Moving Average Convergence Divergence (MACD) indicator (seen below the candles on the above chart) closely, and as soon as it begins to turn up, I will be entering a quarter-size position to test the waters in the $175 area, placing a stop just below the 50-day moving average.
See related: 3 Tips for Using the MACD
That would be a risk of about $4 per share with an upside possibility of about $8—up to the prior swing high of $185, where resistance will be seen.
By Tim Bourquin, managing editor, MoneyShow.com