New Catalyst Can Send Apple to $500
08/12/2011 9:00 am EST
Focus: STOCKS
Apple (AAPL) is already a worldwide leader, but a new deal to sell iPhones to China Mobile's 600 million subscribers could be the catalyst that sends Apple shares to stunning new heights.
Just this week, Apple, Inc. (AAPL) passed up Exxon Mobil (XOM) as the world's largest corporation. That is incredible for a company that sells cell phones, computers, and fancy walkmans!
The company's recent earnings—just like all the others—blew away estimates, and the stock surged beyond $400 per share. However, with the recent calamities in the global markets and their impact on US stocks, not to mention the US debt downgrade by Standard & Poor's, shares of AAPL have taken a pretty good hit.
But something that has gotten little publicity is the fact that the company is now signed up with China Mobile (CHL) to sell the iPhone to China Mobile's 600+ million subscribers. That is a ton of people, not to mention the fact that 600 million is about twice the size of the United States population in general, and having access to this client base could be one of those catalysts that send the stock to upwards of $500 within the year.
You'll see in the chart below that AAPL has been trading in a well-defined range since the beginning of March 2009: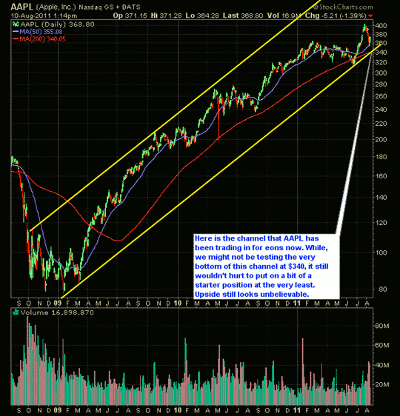 Click to Enlarge
The stock has tested the bottom channel on two separate occasions, and in doing so, it saw a very nice recovery to the upside. With us getting very close to touching the trend line yet again, you have to ask yourself: How close do you have to be to the trend line before you jump in for the ride?
We are well off the highs of this stock, and there is a chance that it might not see the $340's. Nonetheless, I think this is one of the best buys out there right now, particularly for holding for the long term.
By Ryan Mallory of SharePlanner.com