A Stock for Your Trading Menu
09/09/2011 7:00 am EST
Focus: STOCKS
Brinker International (EAT), the parent of Chili's and Maggiano's restaurant chains, is boosting its margins, and it just boosted its per-share dividend by 16 cents a quarter. Can owning its shares fatten your bottom line?
Here are three reasons to consider owning Brinker:
Good earnings reports. Brinker has been able to beat analyst expectations in four of its last five earnings reports.
Low valuation. Brinker's price-to-earnings-to-growth ratio of 0.8 (where a PEG of 1.0 is considered fairly priced) means its stock price is cheap. It currently has a P/E of 13.8, and its earnings per share are expected to grow 16.6% to $2.14 in fiscal 2013.
Out-earning its cost of capital. Brinker is earning more than its cost of capital—and it's making progress. It's producing positive EVA momentum, which measures the change in "economic value added" (essentially, operating profit after deducting capital costs) divided by sales. In 2011, Brinker's EVA momentum was 3%, based on 2010 revenue of $2.9 billion, and EVA that improved from 2010′s -$32 million to 2011′s +$39 million, using an 11% weighted average cost of capital.
One reason against:
Declining sales/profit and balance-sheet worries. Brinker sales and profits have decreased. Its revenue has fallen at an 8.5% annual rate since 2007, while its net income declined at a 9.6% rate—yielding a slim 5% net profit margin. Its debt and cash have also both declined. Specifically, its long-term debt has fallen at a 12.6% annual rate from 2007, and its cash holdings slipped at a 0.9% annual rate.
Here's a recent daily chart: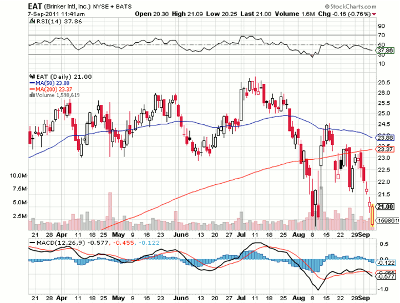 Click to Enlarge
From a technical perspective, if it can hold support in the $20 area, it may provide a boost for the share price in the short term.
Brinker has been shrinking, but it seems to have reached a size at which it can out-earn its cost of capital while beating profit expectations. Its higher dividend yield and low valuation could make it a tasty addition to your portfolio.
Peter Cohan can be found at InvestorPlace.