2 Bullish Forces for Walter Energy
09/12/2011 11:05 am EST
Focus: STOCKS
Global supply and demand factors and a potential pickup in coal industry M&A activity represent two strong reasons to consider US producer Walter Energy (WLT) for the long term.
Coal is still cool regardless of the heavy tape action in this market.
The sector's confidence in emerging market demand for coal, especially the sort used in the production of steel, is keeping deal activity brisk. Four of the ten largest mining-sector mergers and acquisitions in the first half of this year were for metallurgical coal assets.
Peabody Energy (BTU) the largest US coal producer appears to be finally getting its hands on Australia's Macarthur Coal after an on-again/off-again takeover saga that spanned more than a year. Surging demand from steel makers in China and flood-related supply disruptions in Queensland, Australia have driven prices for coking coal to record highs.
Walter Energy, Inc. (WLT) produces and exports metallurgical coal for the steel industry primarily in the United States. The company also produces steam coal, coal bed methane gas, metallurgical coke, and other related products. It principally serves electric utility and industrial customers.
Is Walter Energy a Takeover Target?
The London Times reported the other day that Anglo-American may be readying a bid. Anglo is said to be weighing a $120-per-share offer, or $7.49 billion. BHP Billiton (BHP) is also rumored as a potential acquirer.
Big-Picture Bearish
I am fairly bearish on this market here, and one of the reasons the market is under pressure is the whole idea of a global slowdown, but M&A activity may pick up as prices decline. It is true that it can be cheaper to drill for oil on the floor of the New York Stock Exchange than to put a drill bit in the ground. That can also be said about coal, and strategic acquisitions can be a cheaper way to get a seat at the table.
Price Target
I like Walter Energy for longer-term accounts with a target in the $120-$140 level.
Here's a recent daily chart: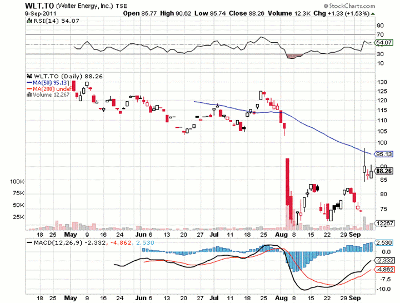 Click to Enlarge
By Joe Donohue of UpsideTrader.com