Telling Trend in 9 Major Sector ETFs
09/13/2011 9:00 am EST
Focus: ETFS
The charts for the major Select Sector SPDR ETFs are showing the continuation of recent bearish trends, as evidenced by the newest candles to print on each of the nine charts.
The bear flag patterns continued in the Select Sector SPDR ETFs this past week. The strongest sectors remain the defensive ones, including Consumer Staples (XLP), Utilities (XLU), and Health Care (XLV).
The weekly chart below for XLU, the strongest of the bunch, is showing signs of a potential breakdown. The bear flag continues this week and the simple moving averages (SMAs) are still rising with price above all but the 20-week SMA. But the topping tails on the last four candles suggest it is getting weary and may be ready for a fall.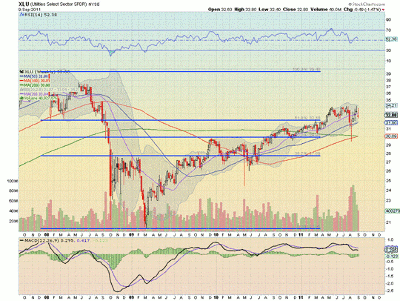 Click to Enlarge
This shows up in the last two weeks on the XLP and XLV charts as well. In fact, all nine major sectors have the topping tails for the last two candlesticks.
Also, notice the volume pattern. As with textbook flags, the volume was strong on the move down and has been decreasing to where it is almost back to the levels prior to the move lower. This is not a trigger for the bear flag to break, but an indication that movement could happen shortly. This volume pattern is evident on all of the sector ETF charts.
NEXT: A Moving Average Bias Apparent on Multiple Charts
|pagebreak|
The charts of the Select Sector SPDR - Materials (XLB), Select Sector SPDR - Industrials (XLI), and Select Sector SPDR - Technology (XLK) have an additional downward bias with the 20-week SMA moving to cross down bearishly through the 50-week SMA this coming week and a renewed push lower in the Relative Strength Index (RSI) as shown in the chart for XLB below.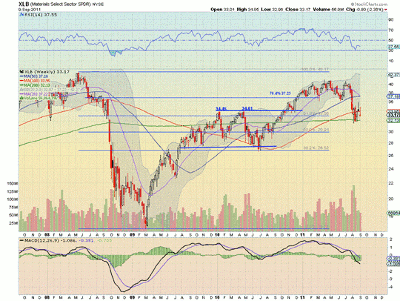 Click to Enlarge
One final point that was not mentioned last week has to do with the Bollinger bands. The move down took all of the sectors outside of their lower Bollinger bands. The strongest recovered quickly, but the last laggards moved back inside them over the last two weeks.
Notice how this occurred in the weakest chart, that of the Select Sector SPDR – Financial (XLF) below, but also that the Bollinger bands are still expanding, clearing the path for a further move.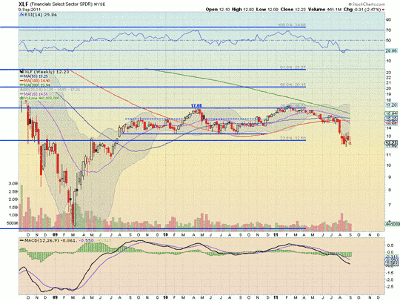 Click to Enlarge
Overall, the bearish bias remains, but the signs are now pointing to the potential for renewed carnage soon.
By Greg Harmon of Dragonfly Capital