Doji Candle Spells Lower Lows for THOR
10/04/2011 8:00 am EST
Focus: OPTIONS
The charts for medical device maker Thoratec Laboratories (THOR) signal downside movement ahead, and traders can look to short it into key support levels or may choose a put spread strategy.
Thoratec Laboratories (THOR) printed a shooting star doji last Tuesday and is falling back to support. The Relative Strength Index (RSI) is rolling lower after stalling just over 50, remaining bearish, and the Moving Average Convergence Divergence (MACD) indicator is low and starting to fade.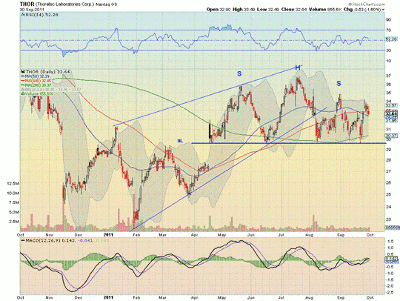 Click to Enlarge
Look for this to head lower with support at $31 and $30 before the strong support at $29.50. Through that level triggers a head-and-shoulders top and a break of a descending triangle, both with targets of $22.20.
The gap at $27.62 will provide first support under the trigger, followed by $27, $25.60, and $25.00 lower along the way. Short interest is elevated at 5.5%, but not excessive. Place a stop initially at $33.60.
Consider taking off the trade on a break at $29.60 and rolling into an October 29/25 put spread at that time to lock in profits and continue to participate to the down side.
(Learn more about doji candles here.)
By Greg Harmon of Dragonfly Capital