3 "Sin" Stocks with Devilish Patterns
10/12/2011 9:00 am EST
Focus: STOCKS
The latest charts for these front-running tobacco stocks show bearish patterns that warn of a potential pullback ahead. Be prepared to hedge existing positions or cut back and take profits.
With the broad market index ETFs all up over 10%, it is hard to find stocks that have not had a good run. For one sector, tobacco stocks, the run may be about to go up in smoke. The three charts below for Lorillard (LO), Altria Group (MO), and Reynolds American (RAI), all show price action that with Japanese candlestick patterns suggest a pullback may be coming. Let's take a look.
Lorillard (LO) broke out of a channel and has been running higher since.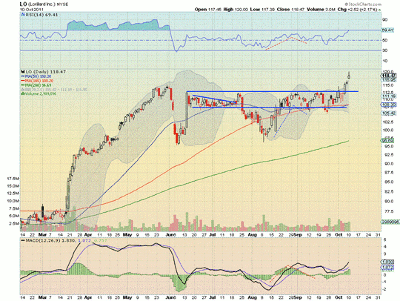 Click to Enlarge
The full run-up from the September 23 low has gained $15, but the last two candlesticks, an evening star and shooting star, are signs of a potential reversal. These need to be confirmed with a lower close, but are worth keeping an eye on.
There are other signs that raise awareness for a stall as well. The Relative Strength Index (RSI) is about to break over 70, the stock is out of the upper Bollinger band, and the target from the channel break was achieved at about $118.
Altria Group (MO) broke above the previous topping area between $26.85 and $27.10 and has been moving higher.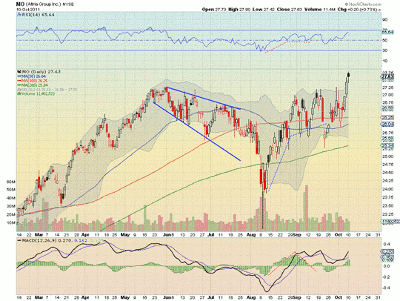 Click to Enlarge
The three-week run-up has added over 10% to the price, but Monday's hanging man candle was also a solid black candle, indicating that although it was a close above Friday's price, the intraday price action was bearish, opening higher and closing lower.
The hanging man needs to be confirmed to signal a reversal as well, but MO is also outside of the upper Bollinger band.
Reynolds American (RAI) has also had a big run higher over two months, going from $31.50 to near $40.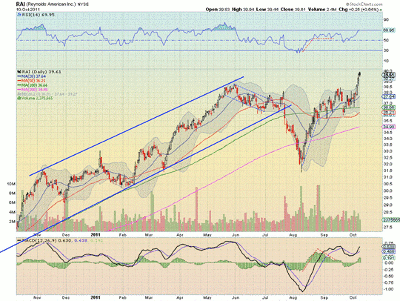 Click to Enlarge
The stock printed an evening star, however, a potential reversal candle, that was also a solid black candle. The evening star needs to be confirmed lower, but RAI also has the RSI at 70 and is out of the upper Bollinger band.
You may be able to enjoy these stocks for a while more. They are in uptrends, but think of this as a period when you are just learning that they cause cancer, and so it is at least time to look for protection and cut back, taking some profits.
By Greg Harmon of Dragonfly Capital