How to Trade the Smartphone Craze
11/04/2011 9:00 am EST
Focus: STOCKS
Smartphone growth may struggle to maintain its torrid pace, but there are still several compelling stock plays in the sector, including a clear-cut leader, writes Michael Comeau, contributor to Minyanville.com.
Taiwan's HTC Corp. (HTCXF) gave smartphone bulls a scare on Monday after it said that revenues and shipments in the normally seasonably-strong fourth quarter would actually be lower than the third quarter.
But have no fear, chipmaker and mobile-device bellwether Qualcomm (QCOM) delivered a solid fiscal fourth-quarter earnings report and dynamite forward guidance yesterday, erasing concerns about a smartphone slowdown.
Here's a recent daily chart: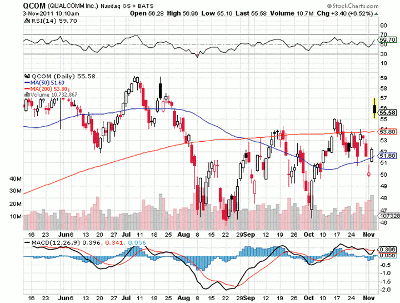 Click to Enlarge
Let's have a look at the headline facts and figures:
Revenues rose 39% to $4.12 billion, surpassing the consensus of $4 billion
Earnings came in at $0.80 a share, beating analysts' expectations by $0.02
For its fiscal first quarter (ending in December), Qualcomm expects to earn $0.86 to $0.92 a share versus consensus estimates of 85 cents
Revenues are expected to be in the range of $4.35 billion to $4.75 billion, nicely ahead of the $4.25-billion consensus
Fiscal 2012 earnings guidance is set at $3.42 to $3.62 a share, the midpoint of which is slightly ahead of expectations
Fiscal 2012 revenue guidance of $18 billion to $19 billion is well above Wall Street's forecasts
Qualcomm is seeing serious momentum in 3G/4G smartphones, including Apple's (AAPL) iPhone 4S
The company is seeing a mix/shift towards higher-end products like its Snapdragon chipset
The key here is that fiscal 2012 guidance. I've been a huge smartphone bull, and my money has been placed where my mouth is, given my holdings in Apple and Sandisk (SNDK).
Nonetheless, I've been a bit worried about the industry's ability to sustain its blistering recent growth rates—nothing grows in the 70%-80% range forever.
The reality is that we have seen a bit of a slowdown in smartphone demand. The market research firm Canalys reported smartphone unit growth of 44% in the third quarter, down from 73% in the second quarter.
However, the aforementioned iPhone 4S—incidentally a key consumer of Qualcomm components—should boost fourth-quarter shipments nicely.
Plus, Qualcomm's strong guidance should be reassuring to investors across the complex, which brings me to my favorite part of any earnings recap, which is…
Pin Action!
Obviously, Qualcomm's big numbers should be considered very bullish for Apple and other smartphone plays like Silicon Motion (SIMO) and the aforementioned Sandisk. In particular, it could drive near-term upside in ARM Holdings (ARMH), though I'll admit that I'm torn on that particular name.
One thing to keep in mind: Due to uncertainty following the death of famed former Apple CEO Steve Jobs, Qualcomm may actually be the best play on the fast-selling iPhone 4S though year-end.
By Michael Comeau, contributor, Minyanville.com