It's Payday for This Loan Company
12/01/2011 8:00 am EST
Focus: STOCKS
Robert Maltbie of Equities.com points readers to a payday loan company whose strong fundamentals, big dividend, and promising global expansion efforts make it an attractive buy at current levels.
This week at Singular Research, senior equity analyst Greg Garner told us that Cash Store Financial (CSFS) was his call of the week and an interesting value play. The company provides payday loans and other short-term financial products in Canada, but is expanding into other markets like the UK.
Cash Store Financial could be considered pretty cheap, trading at 4x EV/EBITDA, and we think it could be poised for a rebound after three tough quarters of higher costs and regulatory headwinds. Investors should note that its also buffered by a 7% dividend yield, and we think it could be a solid play on the "January Effect."
See related: Don't Be Late for the "January Effect"
The company serves as a broker for loans, so it doesn't take on credit risk with its own funds. We expect Cash Store Financial to post strong earnings growth in the next few years as it rebounds from the regulatory rate compression, introduces new products, attracts new customers, and continues to expand into the UK.
Our earnings estimates see growth of 65.1% in 2012 and 37.1% in 2013, and a 10%-15% long-term growth rate is sustainable after 2013. The company also has a history of growing at a greater rate than the industry. Therefore, we believe an 18x to 25x multiple on 2012 EPS is justified in the next year as the company reports progress on several growth initiatives. Applying a PE multiple of 18x PE to our 2012 EPS estimate translates into a price target of $15.48.
Here's a recent daily chart: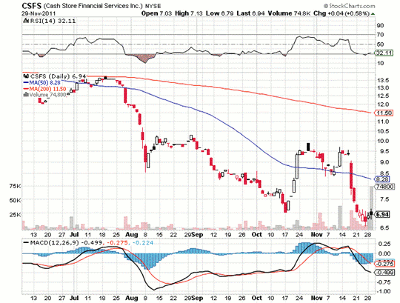 Click to Enlarge
The company beat our fourth-quarter estimates, earning $0.12 per share versus our estimate of $0.06 per share. Revenues declined 5.2% to $47.2 million, better than our forecast of a 9% decline.
Providing that new product focus for Canadian branches and new branch rollout in the UK will drive revenues and margins and cash flows remain strong enough to support the new branch rollout and dividend, Singular reiterates a "buy" rating on Cash Store Financial.
By Robert Maltbie, contributor, Equities.com