12 Niche ETFs to Trade in 2012
12/16/2011 9:00 am EST
Focus: ETFs
The ETF Professor at Benzinga presents an even dozen niche ETFs to trade in 2012.
It's practically a sport among ETF critics these days, and no, we're not talking about the tired practice of bashing leveraged ETFs. That went out of style with shoulder pads and the Miami Vice look. We're talking about bashing niche ETFs.
Apparently, ETF critics can tolerate the existence of basic fare such as the SPDR S&P 500 (SPY) or other broad market index ETFs. But then along comes an ETF like the Global X Fishing Industry ETF (FISN) and some folks get a little surly.
Like it or not, niche ETFs will probably keep growing in number, and the point of this exercise isn't to praise or condemn their existence. Rather, it's merely to point out which ones might be worth your time in 2012.
Some of these are pretty light on volume, so use caution. Here are my picks, in no particular order:
First Trust ISE Cloud Computing Index Fund (SKYY): SKYY has taken its shares of dings, and yes, it's down since its debut. However, did you know SKYY has outperformed the following major tech plays in the past three months: Apple (AAPL), Amazon.com (AMZN), and the PowerShares QQQ Trust (QQQ)?
Over that time, the results aren't even close. SKYY is the clear winner, and the fund's $63.2 million in assets under management (AUM) indicates someone believes in this fund.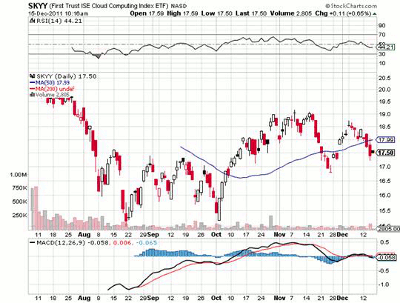 Click to Enlarge
Guggenheim Spin-Off ETF (CSD): While the Guggenheim Spin-Off ETF doesn't immediately add companies that have recently been spun off, the sheer amount of spin-offs conducted in 2011 means that the ETF could add several new constituents next year. Plus, the ETF can make a claim a lot of others can't: It's positive year-to-date.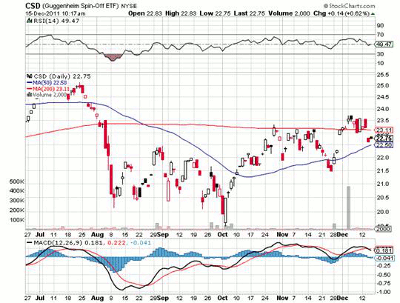 Click to Enlarge
Guggenheim Insider Sentiment ETF (NFO): We giveth and we taketh away. For as much as we like CSD, we're not huge fans of an ETF that tries to capture insider buying trends. However, NFO's almost $110 million in AUM is pretty impressive for an ETF that is arguably quite obscure. An allocation of over 17% to financials is enough to pass on this ETF until that sector gets its act together.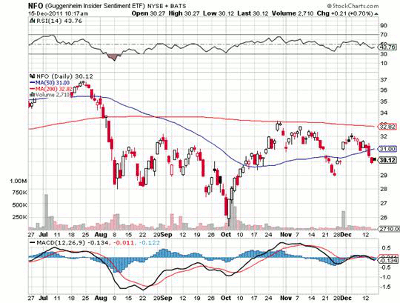 Click to Enlarge
NEXT: ETFs for M&A Activity, Smartphones, and More
|pagebreak|
IndexIQ Merger Arbitrage ETF (MNA): The ticker probably deceives some folks into thinking this ETF is a play on increased mergers and acquisitions activity, but the name tells us this is an arbitrage play. This is a very niche concept, but give MNA some love. The ETF has been a better play than buying investment banking stocks and hoping that they'll rise on increased M&A volume.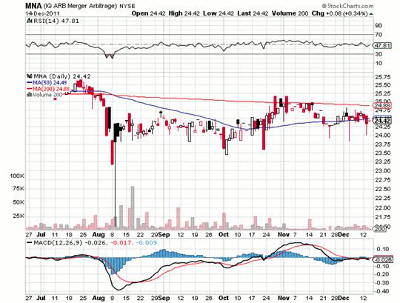 Click to Enlarge
First Trust NASDAQ CEA Smartphone Index Fund (FONE): FONE is another niche tech sector fund that has taken its lumps this year, though in this case, those lumps might be deserved. The statistics show a bull case for smartphone stocks in the coming years, but FONE has been hung up on to the tune of almost 23% this year. Just over $13 million in AUM will keep the ETF alive for a while, but the performance needs to turn around in 2012.

Click to Enlarge
iShares MSCI USA Minimum Volatility Index (USMV): Yes, we're quite comfortable calling a minimum volatility ETF a niche ETF. USMV isn't even two months old at the time of writing, so we'll give it a break on just $5.1 million in AUM. iShares typically doesn't have ETFs that close, and investors might embrace USMV when they realize that the index it tracks has frequently outperformed the MSCI USA Index.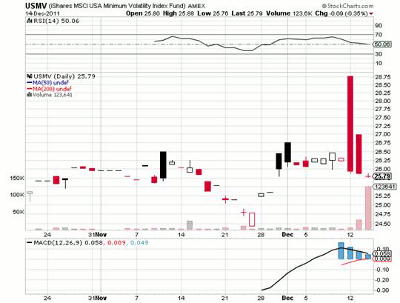 Click to Enlarge
NEXT: ETFs for Social Media, Small-Cap REITs, and More
|pagebreak|
Global X Social Media ETF (SOCL): We've been supporters of this ETF, and it's also fair to say one of the newest offerings from Global X has its share of detractors. Well, everyone is eventually right in the financial markets. SOCL's performance out of the gates is fodder for the ETF's naysayers, but when social media stocks start taking off, so too will SOCL, and our thesis will then be validated.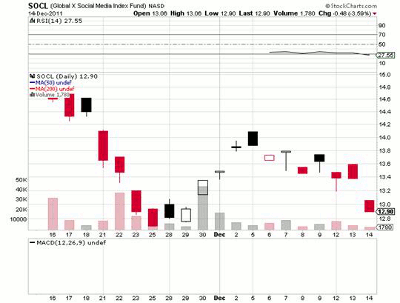 Click to Enlarge
iShares KLD 400 Social Index Fund (DSI): Not social media, but socially responsible; that's what this ETF is about. Maybe there is something to socially responsible investing, as DSI doesn't get outpaced by the S&P 500, but the expense ratio is kind of high at 0.5% in terms of ETFs that are basically US large-cap funds. Quibbles: Arguably, McDonald's (MCD) in an ETF's top ten holdings and a 5.3% weight to oil stocks is not socially responsible.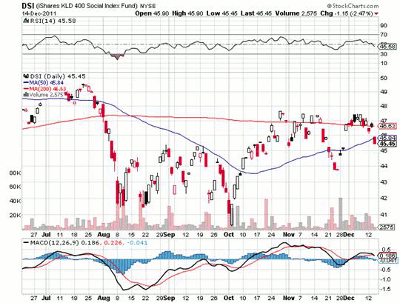 Click to Enlarge
IndexIQ US Real Estate Small-Cap ETF (ROOF): There are lots of large-cap REITs out there, so we're giving the only small-cap REIT niche designation. Since its June debut, ROOF has attracted an admirable $8.58 million in assets under management. That's decent, but that number should grow and do so significantly next year if ROOF wants to be a real player among REIT ETFs.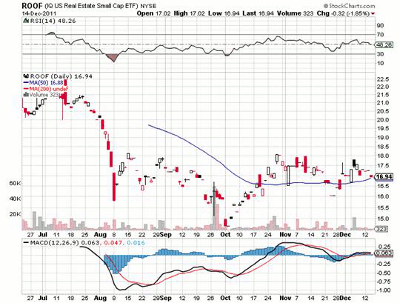 Click to Enlarge
NEXT: 2 Niche ETFs with Solid Yields
|pagebreak|
PowerShares Convertible Securities ETF (CVRT): One would think with all the crowing ETF critics do about niche funds, the PowerShares Convertible Securities ETF would be one of their prime targets. It's not, and at least the ETF can say it has a decent yield at 3.2% and almost $8.8 million in assets under management.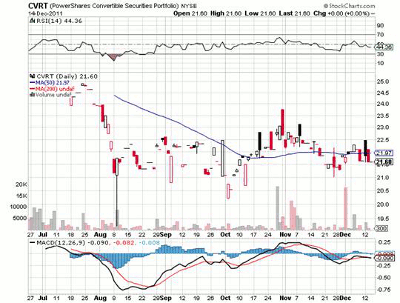 Click to Enlarge
PowerShares Senior Loan Portfolio (BKLN): Here's one that we really thought the critics would assail, but they would be off base if they did. BKLN is only down 1.3% year-to-date and it features a yield over 5.2%. With almost $175 million in AUM, BKLN has proven to be one of 2011's best new ETFs across any sector or asset class in terms of attracting new investments. It could be a buy above $24.

Click to Enlarge
WisdomTree Managed Futures ETF (WDTI): We recently explored the virtues of this managed futures play. All of a sudden, the WisdomTree Managed Futures ETF is worth a look if for no other reason than gold and silver's awful price action recently. After all, WDTI holds short positions in those commodities.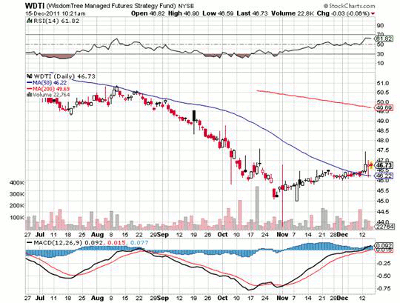 Click to Enlarge
Disclosure: I have no positions in any stocks mentioned, and no plans to initiate any positions within the next 72 hours.
By The ETF Professor at Benzinga