5 Great Trades for a Short Week
01/03/2012 12:50 pm EST
Focus: STOCKS
Favorable chart patterns and technical signals in these five stocks are likely to present good trading opportunities in this holiday-shortened week, writes Greg Harmon of Dragonfly Capital.
After reviewing over 900 charts, I have found some good set-ups for this short week. These were selected and should be viewed in the context of the broad macro picture, which looks like the theme for the week is consolidation or a movement within the range with only a few exceptions.
Allstate (ALL) is consolidating near resistance at $27.80 and the 200-day simple moving average (SMA) from a higher low. It has a relative strength index (RSI) that has been bouncing between bullish and bearish boundaries and not moving strongly in either direction.
The Moving Average Convergence Divergence (MACD) indicator is positive but stating to fade, maybe as a result of the consolidation. A move over that resistance has a gap to fill at $28.40 and then again at $31.28.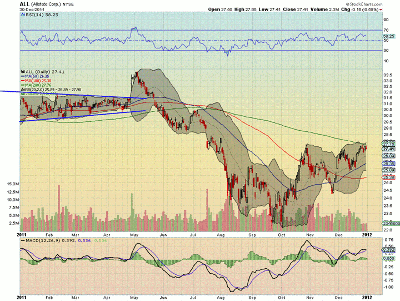 Click to Enlarge
Dow Chemical (DOW) broke out of a symmetrical triangle last week and is now at previous resistance. Through that resistance, the target on the pattern break is to $33.90. The RSI is bullish and rising and the MACD is positive and holding, both supporting more upside.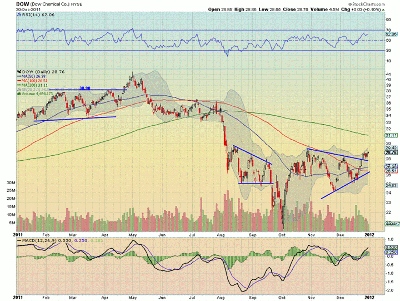 Click to Enlarge
NEXT: 3 More Promising Set-ups for This Week
|pagebreak|
HJ Heinz (HNZ) is building a bull flag between $53.85 and $54.55. As it sits there, the RSI is starting to fall, but it is in bullish territory, and the MACD is positive but starting to fade.
If it breaks the flag higher, there is a measured move to $57, but a break down out of the flag is likely to retest the $52 area. Wait for the break and play the one it gives you.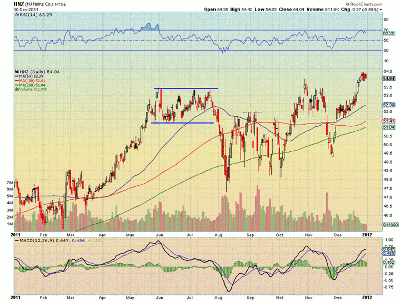 Click to Enlarge
Universal Display (PANL) is starting higher out of a low base built over the last half of December. The RSI is rising quickly and nearing the mid line and the MACD has crossed positive, both supporting further upside.
This stock has very high short interest at over 25%. A continued move to the jumble of SMAs near $43 is likely.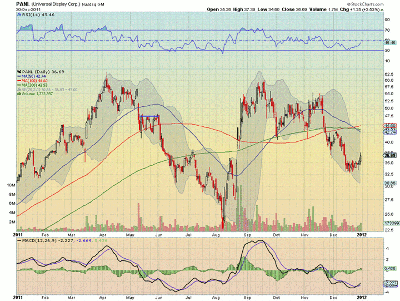 Click to Enlarge
Synergetics (SURG) is building a bull flag, consolidating between $7.20 and $7.50. It has support for a move higher from the strong RSI in the high 60′s. The MACD is positive but fading and it is extended from the rising SMAs. A move over $7.50 has a measured move to $8.60 and a breakdown under $7.20 likely retests the $6.40 area. Short interest is elevated in this name at about 5%.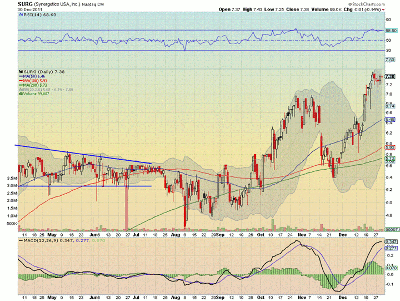 Click to Enlarge
By Greg Harmon of Dragonfly Capital