Bears Go Overboard on Royal Caribbean
01/19/2012 9:00 am EST
Focus: STOCKS
The Carnival (CCL) ship that ran aground off Italy has caused misdirected bearish sentiment towards strong competitors like Royal Caribbean (RCL), writes Tim Bourquin, and a good buy opportunity awaits.
The entire cruise line sector has been hit to some degree by the Carnival Corp. (CCL) ship sitting on its side in the Mediterranean.
In times like these, astute traders will look around the sector to find opportunities where a stock in the same industry has overreacted to the news. For example, when CNN constantly shows an enormous cruse ship on it's side, suddenly, every cruise ship is at risk of hitting a rock.
But what are we really talking about here: one moron of a captain who ran aground in waters that even the local fisherman say is well-charted?
If anything, cruising is probably safer now than it ever was, with every other cruise company sending out memos to their captains reiterating their own safety measures and routes.
So let's take a look at another cruise company, Royal Caribbean Cruises (RCL):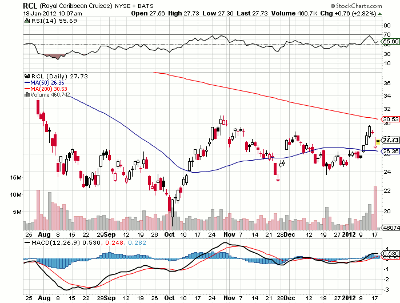 Click to Enlarge
In the three days leading up to the Carnival crash, RCL was on a roll and heartily broke through its 50-day moving average. It took a hit in the days after, but by yesterday (Jan. 17), it seemed to be stabilizing.
It now sits between the 50- and 200-day moving averages. It may bump around in the next few days between these two levels, but my sense is that it will test that 200-day moving average and break through it once the world realizes this accident was caused by one individual's stupidity and not a systemic, industry-wide failure of safety measures.
By Tim Bourquin, co-founder, Traders Expo, traders content director, MoneyShow.com