Fluor Sits on Verge of Big Rally
02/13/2012 12:40 pm EST
Focus: STOCKS
After failing to surpass strong resistance on multiple occasions last year, shares of Fluor (FLR) are again testing this critical level, and a successful break higher could begin a sizable new rally phase.
Shares of Flour Corp (FLR) are testing a strong resistance level at the $60.00-$61.00 level.
Flour is a holding company that executes complex engineering, procurement, construction, and maintenance projects for commercial and government clients in remote locations around the world.
Last week, Flour announced a 28% hike in its quarterly dividend, to .16 cents a share from .13 cents, and also appointed its CEO to serve as board chairman.
Investors apparently like this news and the stock was up some 2% on Thursday, February 9.
Flour's stock is right at important resistance. From August through November 2011, the stock reached the $60-$61 level and each time pulled back.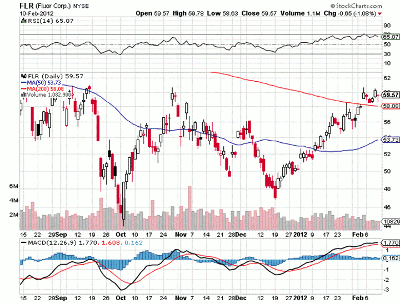 Click to Enlarge
Flour was back at this level again, closing on Thursday, February 9, at $60.29 per share. Friday's close was lower, but the stock bounced back from lows of the day.
If Flour can make a decisive close above resistance, the next target would be above $65 a share and potentially up to the $75 level.
By Frank Kollar of FibTimer.com
The Fibtimer.com stock timing strategy does not have a position in Flour Corp. Frank Kollar is editor and chief analyst at FibTimer.com, which offers market timing strategies for S&P and Nasdaq index fund traders, as well as bond, gold, small-cap, sector, ETF, and stock trading strategies.