One Price Level Holds Silver's Future
02/14/2012 10:15 am EST
Focus: COMMODITIES
With major resistance immediately overhead, silver futures and the ETF SLV are at a key decision point where either a break through resistance will trigger a buy signal, or a failure will trigger a sell.
Silver (and the iShares Silver Trust (SLV)) face a major resistance barrier overhead which should be watched closely.
Let's update the current daily charts of silver and SLV to note this key price level to watch as a reference.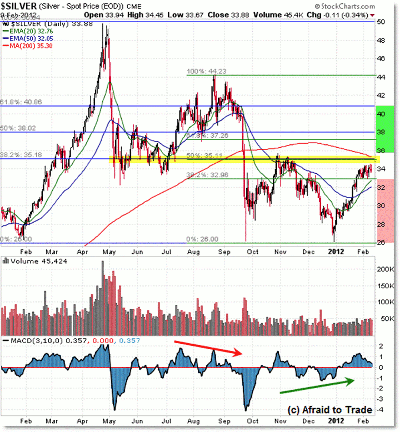 Click to Enlarge
Let's focus most of our attention on the overhead resistance cluster at the $35.00 per ounce level.
On the chart above, we see three major indicators wrapping around the $35.00 area:
The larger 38.2% Fibonacci retracement (whole move)
The smaller 50.05% Fibonacci retracement (from August high)
The falling 200-day simple moving average (SMA)
We can also add in a "price polarity" level from the November high and mid-2011 lows.
Does this level guarantee that price will turn and reverse lower? No, absolutely not, but it will be a level many traders will watch and likely react to depending on what happens.
In general, silver (and SLV below) will likely either break resistance into bullish territory above the $35.00 level or else remain cautious underneath it.
There's similar exponential moving average (EMA) and Fibonacci levels to watch underneath price as support at the $33.00 level. A breakdown there would trigger (or confirm) a bearish bias into the sell zone.
Here's the same style chart for the companion trading fund SLV: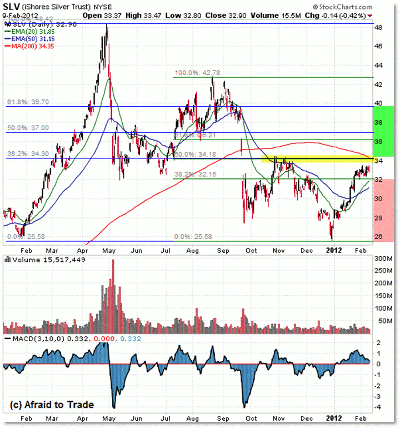 Click to Enlarge
While structure is the same, the key barrier level to watch will be $34.00 in SLV.
Price becomes bullish for a breakout (green zone) above $34, develops a sell bias under $32 (red zone), and otherwise is neutral/cautious between these areas.
For reference, a firm breakthrough above this resistance area will trigger the start of a trend reversal, particularly on a movement back above the falling 200-day SMA.
As traders, we must be as objective as possible and rely on key price reference levels to guide our trading decisions.
These levels appear clearly on the chart structure at the moment in silver (and SLV).
By Corey Rosenbloom, CMT, trader and blogger, AfraidToTrade.com
Corey Rosenbloom will be speaking about this topic and more at The New York Traders Expo next week.