Bullish on Summer Travel? Here's 4 Stocks
02/22/2012 8:00 am EST
Focus: TRADING
Joel Anderson of Equities.com outlines four travel stocks you may wish to consider if you are bullish on the travel industry.
Among those professions that have essentially gone the way of the dodo, the travel agent appears to be the next victim.
The Internet has reduced this once-necessary profession into an oddity, as anyone and everyone can now simply log on to their favorite travel site and order the cheapest tickets available with a few mouse clicks, even finding discounted hotel and rental car rates in the process. So...here are a few of the companies fighting for your travel dollar.
Priceline.com (PCLN)
Like Star Trek? Than this is the travel site for you! Priceline is currently funding the retirement of actor William Shatner through its ubiquitous television commercials, but the costs don't appear to get passed on to the consumer.
Priceline.com rose to prominence through its "Name Your Own Price" system, which it then tried to translate to other areas, including home loans, groceries, and gas. Now, the company is by far the largest travel site in the world, with a market cap of over $28.75 billion.
It's been a solid year for Priceline so far in 2012, as the company's share price is up nearly 25% since New Year's Day.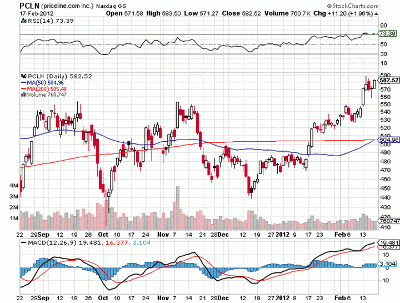 Click to Enlarge
Expedia (EXPE)
The first of those sites falling into the also-ran category is Expedia. Like the others, it's dwarfed by Priceline, with a valuation of about one-seventh the industry leader.
Expedia offers, essentially, the same services as Priceline, using over 145,000 hotels and 300 airlines in 200 countries to find the best prices possible for consumers. Expedia was initially started by Microsoft (MSFT), before getting spun off when the company ceased to be focused on "software-intensive technology."
Expedia, like Priceline (and most of the market), has enjoyed a bump in 2012, with share prices up over 14%.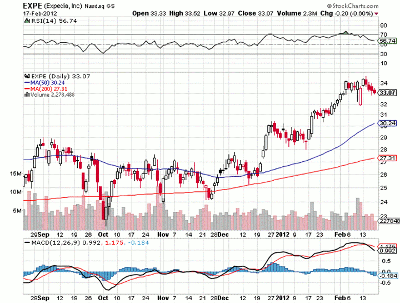 Click to Enlarge
Tripadvisor (TRIP)
TripAdvisor is a research-based model that offers up reviews and information on hotels, airlines, and vacation destinations for the curious potential traveler.
TripAdvisor is free for users, deriving its income from ad revenues, and isn't competing in the same market as Priceline and Expedia as a result, instead focusing on research and review functions rather than booking discounted tickets.
One of the early adopters of user-generated content, this Newton, Massachusetts company was founded in February only 12 years ago. Perhaps by someone trying to plan a Presidents' Day retreat.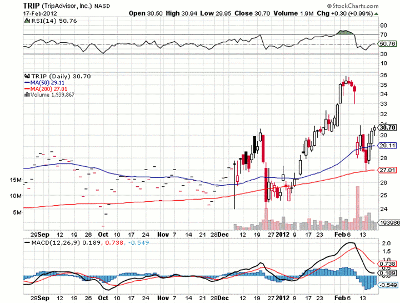 Click to Enlarge
Orbitz Worldwide (OWW)
Finally, Orbitz is another discounted airfare site that uses a database of different carriers and services to find discounted prices for the consumer. Orbitz, though, is clearly the runt of the litter, with a market cap of just $313 million.
Headquartered in Chicago, Illinois, and offered its IPO in July of 2007. What a wonderful time to enter the market that must have been.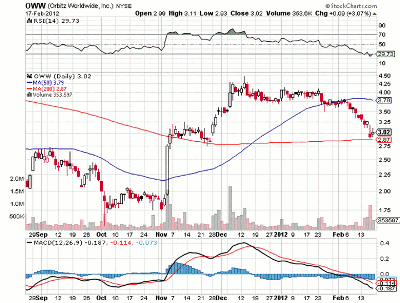 Click to Enlarge
Joel Anderson is a business writer who has been living and working in Los Angeles for six years. He's a staff writer at Equities.com specializing in daily coverage of the markets and profiling spotlight companies for the site.
By clicking submit, you agree to our privacy policy & terms of service.
---
Related Articles on TRADING