Don't Buy the "Sucker's Rally" in Bonds
04/05/2012 9:00 am EST
Focus: ETFs
With major support now broken in a popular bond ETF, Tyler Craig writes that an important trend reversal may be unfolding, and the most recent uptick is just a bull trap no trader will want to fall into.
The massive rounded top in bonds that has been six months in the making finally cracked two weeks ago. Following the latest Fed announcement on March 13, a massive capital shift ensued as money flowed out of the bond market and into the welcoming arms of equities.
The trading volume that accompanied the two-day plunge was the highest seen in the iShares Barclays 20+ Year Treasury Fund (TLT) since September of last year. TLT then popped up for a few days, resulting in a great shorting opportunity for aggressive traders who wanted to fade that move: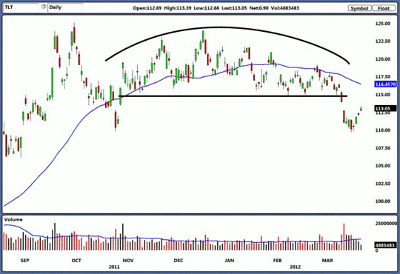 Click to Enlarge
It did eventually crack and is now flirting with the 200-day moving average as well as the previous low from that first blowout: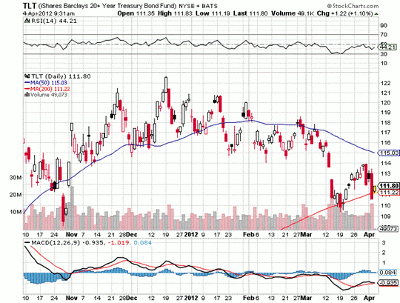 Click to Enlarge
Given that major support has been broken and the 50-day moving average (blue line in chart) is now sloping downward, one could make the case that a longer-term trend change is afoot.
If indeed more downside is in the offing, then this recent rise in bonds is likely a sucker's rally that should be sold.
See related: 3 ETFs to Profit from a Bond Market Top
As outlined in Bonds and the Financial Puzzle, a full-fledged trend reversal in bond prices should bode well for stocks overall; provided, of course, that the strong inverse relationship between these two asset classes remains in force.
The weekly chart shows that there may be support at the 50-week moving average where it coincides with the previous swing low back in October, but if that level is broken, stand by.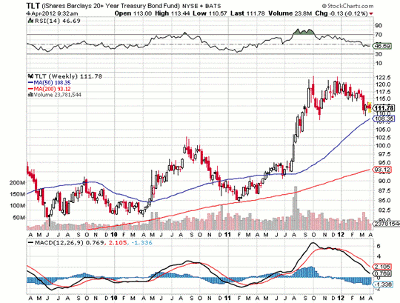 Click to Enlarge
By Tyler Craig of TylersTrading.com