Trade Payday Lenders and Keep the Cash
04/26/2012 10:00 am EST
Focus: STOCKS
Greg Harmon of Dragonfly Capital reviews recent bullish technical action seen in shares of three payday lenders and identifies nearby price points where risk-controlled long-entry opportunities would be presented.
Have you looked at the payday lenders, lately? They seem to be bottoming. Here is a quick look at three in particular and the technical signals that support my thinking.
Cash America International (CSH) has had a hard fall lower over the past month but is now finding support at the $41.50 level, printing back-to-back doji candles. As it sits there, the Relative Strength Index (RSI) is rolling back higher after touching in oversold territory. Keep watch on it and enter long on a close over $42.50.

Click to Enlarge
First Cash Financial Services (FCFS) is also printing back-to-back dojis, the indecision candle. This chart shows that it is consolidating back into the Bollinger bands, as the RSI is touching the technically oversold level. A move back over $40.25 is your entry, but don't cheat.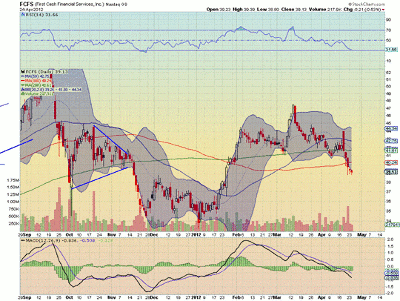 Click to Enlarge
EZCORP (EZPW) is the best looking of the bunch, having already put in one good up day on Tuesday (April 24). The RSI is turning higher after bottoming at 22, and volume is picking up. This one should be at the top of the watch list. A move over $27 is a safe long entry against the recent support near $26.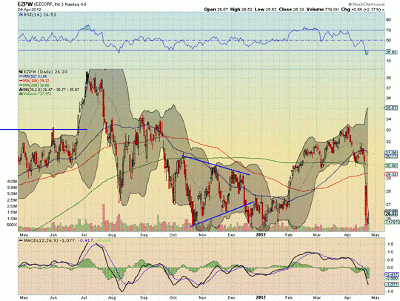 Click to Enlarge
By Greg Harmon of Dragonfly Capital