2 Chart Set-ups to Watch…But Not Trade
04/27/2012 10:10 am EST
Focus: STOCKS
While chart patterns and technical signals alone might make these two stocks buy-worthy, Joe Bell explains that earnings-related uncertainty trumps all, leaving these ideas relegated to the watch list.
I'm going through a lot of my watch-list screens and filters and am seeing some signs of strength from the broad market, although I have outlined a few concerns about small caps in general. If we can clear that hurdle, I will definitely be encouraged.
We currently seem to be in a bit of a trading range. When you throw in the fact that we are in the midst of earnings season and still feeling the effects of the disappointing jobs numbers from earlier this month, it throws a bit of uncertainty into finding potential trade set-ups.
Today, I thought I would share a couple of chart set-ups that intrigue me right now in Zions Bancorporation (ZION) and Continental Resources, Inc. (CLR).
I like Zions Bancorporation (ZION) around the round-number $20 area, which also coincides with its peak put-open interest. I've been a big fan of some regional banks lately, but the not-so-good earnings reaction has me a little wary right now. I think I'm going to wait for confirmation from a couple of my other indicators before I pull the trigger.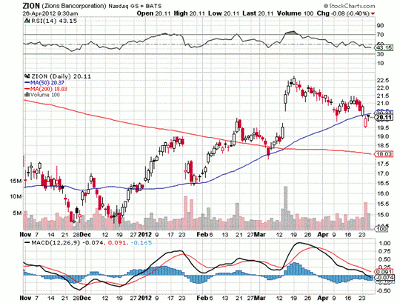 Click to Enlarge
Continental Resources (CLR) is another one that caught my eye. After a prolonged decline in price and momentum, we have seen a little bit of strength in both recently. The stock also rebounded off the round-number $80 level, which coincided with previous resistance. After breaking above its descending trend line during the past couple days, I really like the set-up. The MACD histogram also turned positive recently.
Unfortunately, the company reports earnings next Wednesday (May 2), so I'm going to remain on the sidelines for now.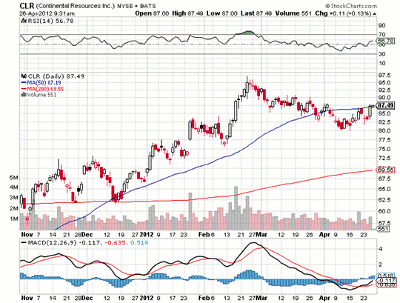 Click to Enlarge
By Joe Bell, contributor, Schaeffer's Research