A Hidden Gem in China's Gaming Sector
05/02/2012 9:00 am EST
Focus: STOCKS
Kyle Woodley, assistant editor of InvestorPlace.com, highlights a small Chinese gaming stock and five fundamental factors that could produce outsized future gains.
Chinese online gaming company Changyou.com Limited (CYOU) earned itself a nice 3%-plus bump on some positive earnings news Monday. But even at around $25, the stock is still trading at about half its value from the 2011 heyday, possibly presenting a bargain for investors wanting to get into a lesser-ballyhooed aspect of the Chinese growth machine.
Here is a recent daily chart: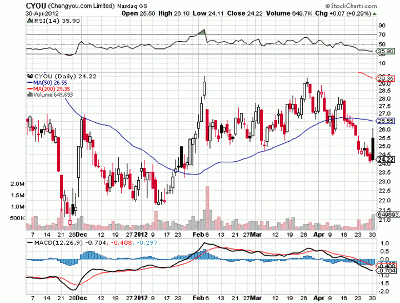 Click to Enlarge
And now here are five things to like about Changyou right now:
It's in China
The banner number for the country's economic growth is 7.5%, and while that doesn't specifically apply to online gaming, it does indicate that Changyou is at least operating in one of the largest and fastest-growing economies in the world.
However, the more applicable number is 20%; that's the low end of the growth range expected for the Chinese online gaming industry, according to Analysys International. Here's a quick look at the firm's growth projections for the industry:


Click to Enlarge
In-Sector Growth
In 2011, Changyou was the fifth-largest player in terms of revenues at just 7% of the market, well behind leaders Tencent (OTC: TCEHY), Shanda (SNDA) and NetEase (NTES), and just behind Perfect World (PWRD). So, it has market to gobble should it take the initiative...which it has. Its 2011 acquisition of 7Road yielded the Web-based game Shen Qu, whose popularity helped drive up accounts.
Changyou also plans further expansion of Web-based, mobile, and social games. Also, it just integrated the Chinese game information portal 17173.com, which brings in revenue through advertising.
Strong Earnings
Monday's earnings report was strong across the board. Income came to $65.3 million ($1.22 per share), up 12% year-over-year, and revenues of $136.8 million jumped 30%. Adjusted earnings per share (EPS) came in at $1.24, easily clearing the $1.11 bar set by analysts and keeping alive a string of earnings beats from last year.
Ultra-Low Valuation
Dirt. Cheap. CYOU currently is trading at just over five times 2012 earnings, which admittedly are expected to be flat compared to 2011's numbers. However, its forward P/E comes in at less than 5 in anticipation of double-digit earnings growth in 2013.
Lofty Price Targets
You'll always want to take analysts' word with a grain of salt, but for what it's worth, their average target for CYOU is around $37 per share, or almost 50% better than current prices. And even then, CYOU would be trading around a reasonable or still cheap eight times earnings. Not bad.
By Kyle Woodley, assistant editor, InvestorPlace.com