A Stock Buy to Outduel the Smart Money
05/31/2012 10:25 am EST
Focus: STOCKS
The large recent decline in shares of Alliance Resource Partners (ARLP) allows new buyers to get in at a 20% discount from where the company director bought just months before, writes the Staff at DividendChannel.com.
There's an old saying on Wall Street about insider buying: there are many possible reasons to sell a stock, but only one reason to buy.
Back on February 8, Alliance Resource Partners' (ARLP) director, John P. Neafsey, invested $74,030 into 1,000 shares of ARLP for a cost per share of $74.03. Bargain hunters tend to pay particular attention to insider buys like this one, because presumably, the only reason an insider would take their hard-earned cash and use it to buy stock of their company on the open market is that they expect to make money.
In trading on Tuesday, bargain hunters could buy shares of ARLP and achieve a cost basis 22.1% cheaper than Neafsey, with shares changing hands as low as $57.66 per share. It should be noted that Neafsey has collected $1.02/share in dividends since the time of their purchase, so they are currently down 20.7% on their purchase from a total return basis.
The chart below shows recent daily performance of ARLP shares versus its 200-day and 50-day moving average: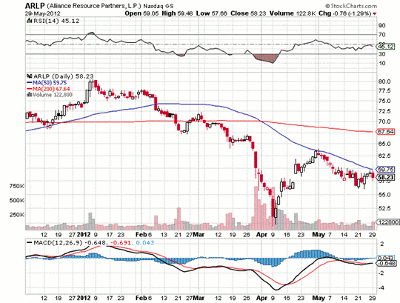 Click to Enlarge
ARLP's low point in its 52-week range is $50.42 per share, with $83.80 as the 52-week high point—that compares with a recent trade of $58.24.
By comparison, below is a table showing the prices at which insider buying was recorded over the last six months:


Click to Enlarge
The current annualized dividend paid by Alliance Resource Partners, L.P. is $4.10/share, currently paid in quarterly installments, and its most recent dividend ex-date was on 05/04/2012.
Below is a long-term dividend history chart for ARLP, which can be of good help in judging whether the most recent dividend with approx. 7.0% annualized yield is likely to continue.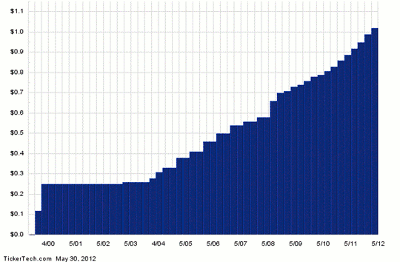 Click to Enlarge
According to the ETF Finder at ETF Channel, ARLP makes up 2.76% of the Global Coal Portfolio ETF (PKOL).
By the Staff at DividendChannel.com