Cheap Coffee Perks Up 2 Retail Stocks
06/26/2012 10:15 am EST
Focus: STOCKS
Coffee prices trading near two-year lows means lower costs for retailers like Starbucks (SBUX) and Dunkin' Donuts (DNKN), writes Evan Myer of T3 Live, and both seem like attractive buys close to strong support.
After a spike in prices last year, the price of coffee futures hit a two-year low, and coffee chains such as Starbucks (SBUX) and Dunkin' Donuts (DNKN) are ready to capitalize. Investors are predicting the price to drop based on the influx in the supply of coffee from Brazil, which will then dilute the worldwide supply of coffee. Arabica futures fell to $1.4955 a pound on Monday and ICE coffee futures have seen a sharp decline of 15% in the last month.
This news has boosted both Starbucks and Dunkin' Donuts, but the companies have embraced the low prices in different ways: Starbucks owns the majority of their stores, so they are directly responsible for purchasing and supplying the stores with coffee. As a result, the drop in prices will directly increase profit margins on coffee in both their stores and retail business, including grocery stores and other outlets.
Conversely, Dunkin' Donuts franchises all of their stores, so the company is insulated from the volatilities associated with commodities such as coffee. Thus, margins remain relatively constant, but individual stores now have more money to devote to other costs, such as marketing, which would increase revenue.
The relief in prices will not occur until next year, but investors are buying the news. Starbucks' stock has traded relatively constant over the past couple of days, but it established strong support levels around $51 before trading higher and then lower again. The $51 level is likely to act as support again, as it has done three previous times since the middle of May.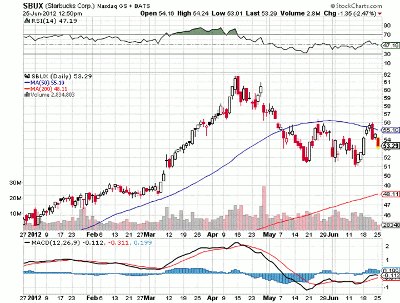 Click to Enlarge
Dunkin Donuts, on the other hand, is trading above its key moving averages, culminating in a breakout above $34 and a new 52-week high recently. However, the last few days have not been kind to the stock. But if the 50-day moving average acts as support, now might be a good time to trade some and trail some. Traders who prefer early entries should perhaps let the stock retrace to at least a key level of support around $34 before getting into a new core position.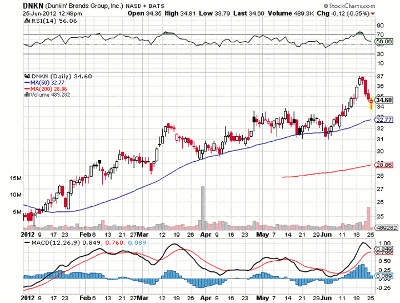 Click to Enlarge
In terms of the macro outlook, both stocks look extremely strong. The coffee prices are now set for the 2013 fiscal year which starts in October, so expect a nice tailwind and a gradual rise in price as we approach the fall.
By Evan Myer, contributor, T3 Live