6 Stocks to Watch in a Busy Earnings Season
07/11/2012 9:00 am EST
Focus: STOCKS
Marc Sperling of T3Live.com outlines several stocks he's watching as earnings season begins.
We're back to the beginning of earnings this week, and they kicked off with Alcoa (AA). It's a light calendar, but we do have JPMorgan (JPM) at the end of the week.
I don't see a lot of A+ trades out there right now. I'm still watching the retailers for some upside action. They've been beaten up and are either forming a bear flag or trying to find a new base.
Obviously Netflix (NFLX) had a big squeeze at the end of last week, and it looks like it may be headed toward the 200-day moving average, right around $92.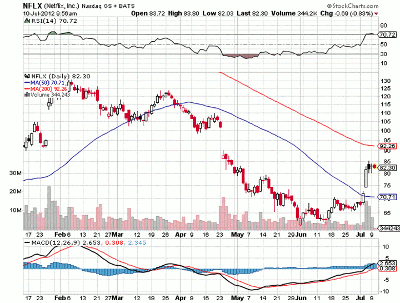 Click to Enlarge
Apple (AAPL) pulled back on Friday, and I think it was an opportunity to get involved. Every time it gets around $600, I look to get involved. That's my level.
The same is true of Priceline (PCLN) right at $665 to $670. There's an opportunity to be rewarded when we get a bit of an uptick.
There's been some damage done in the S&P, but as long as we hold the ten-day moving average in the SPY at $134.50, we should be fine. I think we will most likely just meander around the current level for a while at least.
I think Facebook (FB) could trigger above $32 or $32.50 for a move all the way up to about $35. I think at some point this year, it will touch its IPO price, but we'll have to wait and see what happens.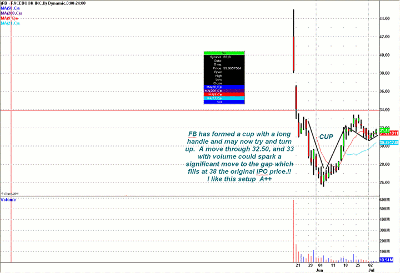 Click to Enlarge
First Solar (FSLR) is getting tighter, but needs a move above $16.25 or $16.50 with real volume to finally ignite.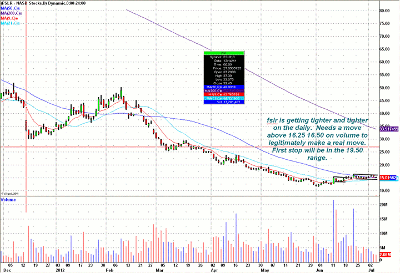 Click to Enlarge
Deckers Outdoor (DECK) has been one of the worst performers in the market over the last year, but it looks like it could be starting to form a flag. Keep it on your radar.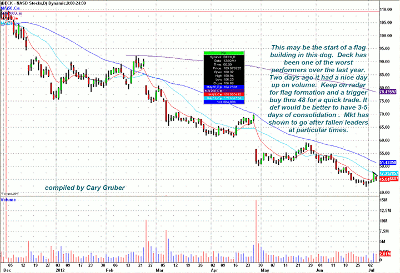 Click to Enlarge
Marc Sperling is a trader at T3Live.com.