Technical Signals Piling Up on Honeywell
07/24/2012 10:15 am EST
Focus: STOCKS
Greg Harmon of Dragonfly Capital outlines several trading ideas on Honeywell based on technical signals on the daily chart.
Honeywell (HON) is consolidating at 58.50 after a gap higher on earnings July 18.
There is resistance higher at $61.10 to $61.50 before clear air higher. Support below is found at $56 and $55.10, followed by $54.60 and $52.80. The Relative Strength Index (RSI) has moved into bullish territory, and the Moving Average Convergence Divergence indicator (MACD) is positive and growing, both supporting further upside.
Adding further weight to the long case is the three-box reversal Point and Figure chart (PnF), which has a bullish price objective (PO) of 69. The only caution in this chart is the upper shadows as it consolidates. A move over the 58.50 area brings a Measured Move to 63.25.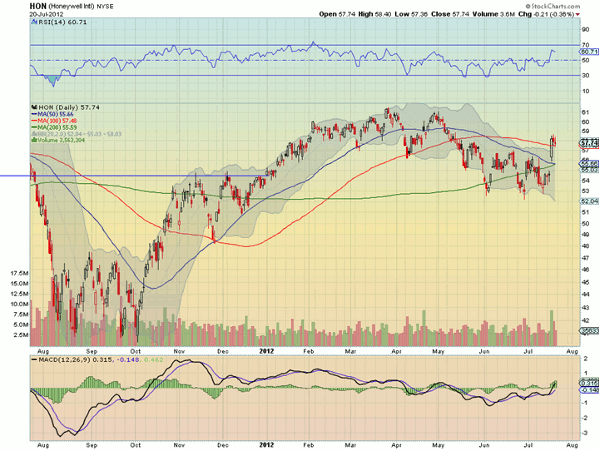 Click to Enlarge
As always, be sure to check current pricing before executing any of these ideas.
Trade Idea 1: Buy the stock on a break over 58.50 with a $1 trailing stop.


Trade Idea 2: Buy the August 57.50 Calls on a break over 58.50. These were offered at $1.41 recently.


Trade Idea 3: Sell the August 52.50 Puts now. These were bid at 24 cents recently. You can add trade No. 2 later to create bullish Risk Reversal.


Trade Idea 4: Buy the August 60/62.5/65 Call Butterfly. Buying the August 60 and 65 Calls and selling 2 of the August 62.5 Calls, this should cost around 20 cents.


Trade Idea 5: Buy the September 52.5/60 Bullish Risk Reversal on a break over 58.50. Giving more time, this was offered at 23 cents recently.


Greg Harmon can be found at Dragonfly Capital.