Join John Person LIVE at Back to the Futures!
Join John Person LIVE at Back to the Futures!
Sectors Where the Rally Is for Real
09/10/2012 8:00 am EST
Focus: STOCKS
John Person is unconvinced by the health of the market's current rise, but some areas should be solid buys both now and after Election Day.
Is there substance to this rally, or is the stock market moving up purely on expectations of artificial injection of liquidity or other expectations?
The Europeans have followed the lead of the United States for injecting capital into the banking system in order to avoid a further debt crisis. While the euro currency has rallied significantly in the last month on this news, gold prices have also moved higher in response to fears of inflation, due to monies being printed to support central banks' monetary policies. In fact, gold is now in relative terms to the euro currency at its highest in peak price.
So what does this tell us? It shows that investors are still pouring money into precious metals, including silver, as a hedge against future inflation or against failed policies.
Many US companies during the second-quarter earnings season announced significant headwinds in the months ahead, either due to a decline in business, both here in the US and abroad, based on expectations from a decline in demand (orders). In addition, transportation stocks have been under a tremendous decline, with many stocks in that sector not participating with the benchmark S&P 500 rally.
The latest news came from Intel (INTC), whose stock was punished by dropping nearly 4% on Friday as the stock market moved up. And it's not just Intel—other semiconductor stocks have also not participated in this rally.
Moreover, its not just isolated to other technology stocks. Companies like McDonalds (MCD), Kraft (KFT), Abercrombie and Fitch (ANF), FedEx (FDX), Hewlett-Packard (HPQ), and Dell Computer (DELL) have not moved in conjunction with the broad-based stock index move. In fact, only 341 of the S&P 500 stocks are trading above their 50-day moving average.
But the stocks that are moving higher are moving significantly higher, such as Apple (AAPL), Google (GOOG), Freeport McMoRan (FCX), and even Monsanto (MON). But stocks like DuPont (DD), Alcoa (AA), and Dow Chemical (DOW) have moved sideways. Transportation giant United Parcel Service (UPS) is actually trading negative on the year, as is Caterpillar (CAT) and industrial giant Boeing (BA).
With precious metals moving sharply higher, I understand the move in the miners like Agnico-Eagle (AEM) and Newmont (NEM). But if the economy is truly going to perform, then we need to see the industrial sector participate in this rally...and so far with the names I've just mentioned, this certainly is not the case.
While it is true most retail speculators are not participating in this market movement—and not all hedge funds and mutual funds are having a great year—perhaps it's hard to fight the Fed, as well as central bankers on a different continent.
Next: The global economy has contracted
|pagebreak|
But make no mistake, the global economy has contracted—even China's numbers have come down, job growth is dismal in Europe, and here in the US our latest jobs number was a disappointment. It's only a matter of time before investors will need to see solid evidence of growth, rather than words being thrown at the market, to prop prices up before someone wakes up, smells the coffee, and starts hitting the bid button selling all they own.
The chart below is a daily graph on the S&P 500 ETF (SPY). The bottom quadrant shows the advance-decline ratio line. As you can tell, prices have broken up to newer highs for 2012. However, the participation of stocks accompanying this rally is nowhere near the levels seen in April. This type of divergence makes technicians, especially this one, skeptical that the rally has sustainability at this point in time.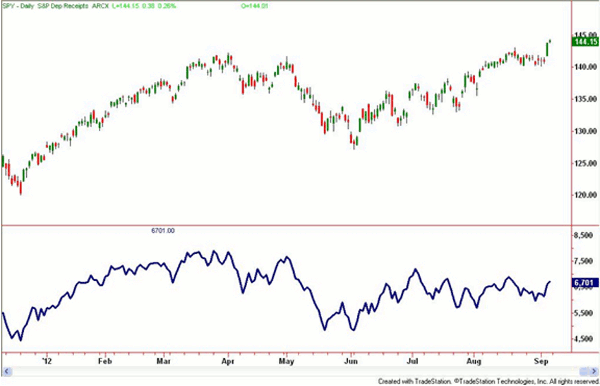 Click to Enlarge
When I hear big-name companies miss earning expectations and lower guidance, and more importantly job creation is dismal, while that's a great argument for the Fed to conduct another round of quantitative easing, to do so eight weeks before the presidential election will make conspiracy theorists pop out of the woodwork.
But one other element we need not forget is that the stock market moves on expectations. Some of those expectations are based on earnings or a change in economic conditions, monetary policy, or fiscal policy changes, or (and most importantly) government leadership.
Perhaps this last leg up is not based on whether the Fed will act to initiate another round of quantitative easing measures, but a Democratic win in the White House. After all, it is too coincidental that the stock market moved up During the Democratic National Convention. I must certainly say that easier money and keeping a zero interest rate policy has not done much to improve the jobs situation, so what will more of the same accomplish?
My research states that its best to be long stocks for the long haul, and if we are to see an amazing rebound in growth, stocks like Bank of America (BAC), UPS, refiners and oil-service companies like Halliburton (HAL) should appreciate in price over the long run.
However, I also believe now is an appropriate time to take on some downside price protection. With Implied Volatility near multi-year lows, this makes option premiums substantially less expensive.
I believe now is a good time to be hedged, as I do see an impending correction in the overall market.
John Person can be found at NationalFutures.com.