I'll Have a Triple Latte, Please
11/21/2012 8:00 am EST
Focus: COMMODITIES
Coffee is the lifeblood of most traders, and pretty soon, your favorite triple skinny caffe macchiato might be a little cheaper, writes Greg Harmon of Dragonfly Capital.
Coffee prices are continuing to fall since peaking in early 2011. From the monthly chart below you can see it was a double top created with the prior top in 1997. Since the pullback has begun it has retraced almost 61.8% of the nine-year move higher, a key Fibonacci level, with the 100-month Simple Moving Average (SMA) at nearly the same level. This creates a tradeable event and makes it interesting.
Coffee, Monthly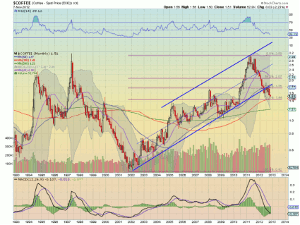 Click to Enlarge
A continued move below the 1.44 level has support next below the 200-month SMA currently at 1.21, down at 1.10. And with the Relative Strength Index (RSI) making new lows and into bearish territory and a negative Moving Average Convergence Divergence indicator (MACD), there is support for more downside. The shorter weekly view suggests that you might not have to wait for the 1.44 break. This chart shows a double bottom at 1.51, that if broken could get the trade started early.
Coffee, Weekly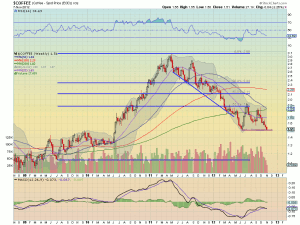 Click to Enlarge
Even if you do not trade commodities, this can be useful. The price of coffee tends to be inversely correlated to the price of coffee stocks. Look for potential long trade ideas with them.
By Greg Harmon of Dragonfly Capital